Faculty Interview: Kekla Magoon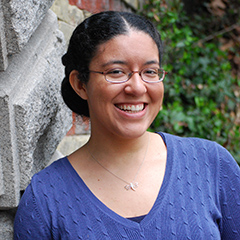 Just over a year ago I walked into the Barn–just an ordinary night with the Calkin's Creamery cheeses and wine on the coffee table and people talking about books, with books in their laps and books on the coffee table near the cheeses and books on the shelves behind them. You get the picture–book explosion with a side of cheese. Only it wasn't an ordinary Sunday at the Barn. It was extraordinary, because at the Barn you never know who you are going to share book talk (and cheese) with, and on that particular night, Kekla Magoon happened to be finishing up a writing retreat with some of her fellow Vermont College of Fine Arts writers.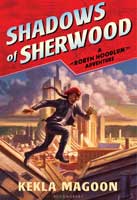 Kekla was months into a whirlwind book explosion of her own making. Shadows of Sherwood had just released, preceded by her highly praised X: A Novel early in the year. She spoke of her work on the multi-author, multimedia saga Voyagers and the schedule for the next two books in her remastered Robin Hood series. She was gracious with her time that evening, especially as the new Unworkshoppers (myself included) had so many questions for her.
After that visit, Kekla and I started talking about a workshop that she might hold at the Highlights Foundation. The workshop Kekla created introduces character-building and world-building techniques incorporating theater skills, meditation practices, and simple arts and crafts projects. As you might expect, Kekla, such a gifted teacher and writer, promises a lively workshop with tons of writing time.
We are thrilled to have her visit the blog today to learn more about her busy writing life and her upcoming workshop at the Barn, Writing Off the Page.
Alison: Welcome, Kekla! Thank you for joining us on the blog today. The last time you were at the Barn, you had so many projects near completion. We're dying to know, what can we look forward to reading from you soon?


Kekla: I'm finishing up my second-round edits on Reign of Outlaws, which is the third and final book in the Robyn Hoodlum Adventures series, a middle grade fantasy trilogy in which I reimagine the classic character Robin Hood as a biracial, urban, twelve-year-old girl. After that, I'll be finishing the first draft of my next middle grade novel. Later this spring, I'll dive into drafting a sequel to my most popular YA novel to date, How It Went Down.
Alison: You keep so many projects going at once. How do you fit it all in? Tell us a bit about your day-to-day writing life. What is your secret?
Kekla: My daily schedule varies widely, and I like it that way! I have three basic modes: writing mode, teaching mode, and author-visit mode.
If I'm hunkered down on deadline for one of my own novels, I like to reach for the laptop first thing in the morning, before I'm even out of bed! I write for as long as I'm inspired, which is usually right up until I get hungry! This is a great way to start the day, because when I've already done something productive first thing, it makes it easier to stay productive later. I eat breakfast, check emails, and return to writing as soon as possible. In the afternoon/evening, I enjoy cooking and baking, and I like to watch TV or spend time with friends.
I also teach in the low-residency MFA in writing for children and young adults program at Vermont College of Fine Arts. I serve as faculty mentor to a handful of students each semester, and once per month I read and respond to a 50-page packet of writing from each student. If it is a packet week, I wake up, do a smidge of my own writing to keep the project active in my mind, and then I go to the local coffee shop to read and make notes on my students' work.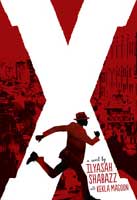 My schedule becomes much less predictable when I'm traveling, but I very much enjoy visiting schools and libraries across the country to meet and interact with my young readers. Many of my books address civil rights struggles, in both historical and contemporary contexts, and I'm frequently invited to present on these topics. I have my suitcase-packing routine down pat, and I'm quickly familiarizing myself with the best places to eat in all the major airports around the country!
That's my life! Writing, teaching, speaking. It would be great to add a fourth mode: vacation mode! Maybe after the next book?…Errr, after the next three books? Maybe?
Alison: We are looking forward to your March workshop at the Highlights Foundation. Can you tell our readers a bit about Writing Off the Page? Is this workshop for writers and illustrators? And what can attendees expect from the experience?
Kekla: This workshop is about developing new creative strategies we can engage to help bring our stories to life. We'll be thinking about our writing from different angles and drawing inspiration from other disciplines (theater, graphic design, visual art) to deepen our characters and create more vibrant landscapes in which to immerse them. We'll practice new ways to get into our characters' heads, through meditation, journaling, arts and crafts, and creative projects that pull us out from behind the keyboard to immerse ourselves more fully in the worlds of our stories. We'll also consider story structure and explore some visual and tactile tools for outlining, organizing, and reorganizing. These activities will be valuable for people writing fiction for all ages, from picture book to adult audiences, as well as those writing nonfiction, memoir, or poetry.
As I am a writer myself, this workshop is most ideal for writers and writer-illustrators. Certainly, the tools we will be exploring would be of value to illustrators and anyone else who is working with characters and storytelling; the whole idea is to stretch beyond the familiar medium that is your starting place (for me, that's words on the page) and figure out new entry points to access your creative material.
Fellow writers Laurie Calkhoven and Nicole Valentine will join me in leading meditation sessions, workshop elements, and discussion. There will also be plenty of generative writing time each day, in which we can all take the inspiration from our shared workshop activities and apply it to our own works-in-progress.
Alison: Thank you for your time today, Kekla!
Posted on: January 13, 2017
Tags: faculty interview