The Crash Course
Everything You Need to Know About Children's Pubilshing
This course covers all aspects of children's book publishing, from genres and types of books to working with a publisher (and everything in between). Material will be covered via live Zoom sessions and pre-recorded content.
You'll also have access to weekly live office hours with faculty, and a 1:1 consultation after the course.
We generally run this course three times per year, including one special illustrator's edition.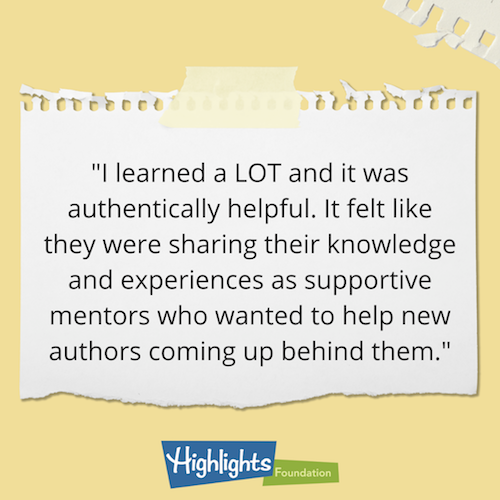 What You'll Learn
Explore genres of books, types of publishers, types of markets; fiction vs. nonfiction, flat fee vs. royalties, schools and libraries, etc.
Find out how to get help before you submit from conferences, books, critique groups, beta readers, and children.
Find out how to get started as a professional and find your community.
Use writing exercises to get to know your characters and develop your stories.
Understand submissions rules and practices, including which mistakes to avoid.
Learn about how publishers sign manuscripts, and how to make sense of contracts.
Discover the publishing process: developmental editing, line editing, copyediting and proofreading, design, illustration, production, marketing, and distribution.
Testimonials from Our Community
"The experience was terrific. I learned a great deal. When I enrolled, I had been concerned about being able to get the full "workshop feeling" since the course was offered online rather than in person. My concerns were for naught. I felt that we made a good community even though we were not in the same room together! The presentations were thoughtful and thought-provoking. I appreciated the mix of craft and the nuts and bolts of publishing that instructors (special shout out to the fabulous Alison Green Myers and Harold Underdown!!!!), and guests shared with us. Discussions were substantive and fruitful. We did some powerful writing exercises together. The critiques of the writing samples we submitted were productive, direct, and kind. It is an art to give honest feedback without taking the air out of a writer! It was done so very well. I even met some nice people, remotely of course, but we set up a writing group that carried on long after the workshop was done. I recommend this workshop with enthusiasm!"
"I was able to confidently complete my draft and query letter. It was the highlight (no pun intended) of my year! Thank you. I am looking forward to working with my mentor, as well."
"I loved getting deep insight into the children's book world today and also a better understanding of the business of the publishing world and how to navigate it. It was a comprehensive overview – and the instructors were positive and supportive."
"I can't say enough about the instructors. The knowledge they shared was incredible and very non-threatening to one who is just trying to get started. I found encouragement in the midst of the reality of the hard work and time requirements."
"I am thrilled with this experience. So many of my questions have been answered and I learned a great deal. Harold is wonderful and I enjoyed listening to him. Allison did a great job, too, especially about query letters."