The Crash Course
Everything You Need to Know About Children's Publishing
This course covers all aspects of children's book publishing, from genres and types of books to working with a publisher (and everything in between).
You'll get:
Live Zoom sessions and pre-recorded content.
Optional live weekly office hours with faculty.
A 1:1 consultation with a mentor after the course.
Content specific for illustrators in our "Illustrator's Edition."
"I loved getting deep insight into the children's book world today and also a better understanding of the business of the publishing world and how to navigate it. It was a comprehensive overview – and the instructors were positive and supportive."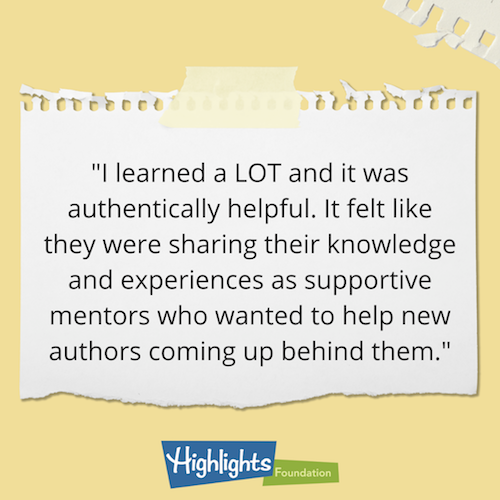 "The crash course was life changing." (Nathalie Alonso, MLB.com journalist and debut author)
I attended the Crash Course in 2011. It was my first Highlights workshop. It gave me an excellent overview of children's book publishing and an introduction to what else Highlights could offer me on my writer journey. I met two people there and had no idea what an important role each would play in my future writing life. One was a writer, now published multiple times, who is still a friend twelve years later. The other turned out to be a mentor who continues to shape what I write and how I write it. You never know what opportunities will come from attending a Highlights workshop. (Susan Wheeler)
Editor Harold Underdown on Who Should Attend, and What to Expect From the Crash Course
Video Transcripts
(Watch the video, or click a title to read the transcripts.)
Who Should Attend?
George Brown: Hi, I'm George Brown with the Highlights Foundation. I'm here talking to Harold Underdown, the lead faculty of our Crash Course (Everything You Need to Know About Children's Publishing).
I thought it would be helpful, Harold, if you could talk to us a little bit about what students can expect, who should attend, and some of those pieces.
So, who should attend the Crash Course?
Harold Underdown: Thanks, George. So that's a key question, and it's something we've talked about over the years. And we've come up with this term that we use.
We call our students "serious beginners."
It's an interesting term. What does that mean? Who's a serious beginner?
You might think about it in terms of milestones, i.e. that someone's gotten to a certain point or not.
But we think it's really more about attitude—that people at different points in their writing or illustrating or publishing career can be serious beginners.
So for example, someone who has literally just started writing in the past year, they've been working away on a few manuscripts; they're really excited about it. And they're Googling and they find out that the Highlights Foundation is offering workshops, and bing—they want to go off to the Highlights Foundation. That's a serious beginner.
On the other hand, someone who has been writing for a while, maybe they've joined a writer's organization, maybe they've started sending out manuscripts; they belong to a critique group. But they don't know the whole process. They feel like they need to know more about how publishing works. That's a serous beginner, too.
And we've also had folks come to the Crash Course who published in Highlights Magazine, or published with a book publisher, but even though they've been through that, they still feel like, "I don't know how this all works, and I need to learn more about it."
So all those folks come to the Crash Course, and all those folks are what I call and who we would call "serious beginners." And that's really who we intend the Crash Course for.
What Should You Expect?
George Brown: So Harold, I'm also curious—you told us a little bit about what type of student. But what can students expect from the Crash Course? You talked about "serious beginners."
Harold Underdown: Right. Well, yes, there's a lot to expect from the Crash Course. We subtitle it "Everything You Need to Know About Children's Book Publishing," and we really feel like that's the case.
Because we try to give you everything about the process—starting from when you're beginning to write, to when you're working on your manuscript and making decisions on whether it's ready to go out, to sending it out, who you send it out to, how you send it out, and what happens when a publisher is interested in it. We talk a little bit about contracts, we go through the publishing process and all that's involved in that—illustrating, design work, the different kinds of editing, what happens when your book goes out on the market.
And of course we also talk about the different kinds of children's books, and who their audience is, and the different children's book markets. Because there isn't just one market.
And all of that gets presented to our students in an organized manner by people who have first-hand experience in what they're talking about.
And what I think is really great about that, is that–you can pick this stuff up. You know, you could go to writer's conferences, if read some books. But you'd have to do a lot of work on your own.
If you come to the workshop, it's all laid out for you. It's presented in a friendly way. You get to ask as many questions as you want. And you've got all that knowledge packaged up for you and presented effectively.
So that's what you can expect, and I think that's what we provide.
What You'll Learn
Explore genres of books, types of publishers, types of markets; fiction vs. nonfiction, flat fee vs. royalties, schools and libraries, etc.
Find out how to get help before you submit from conferences, books, critique groups, beta readers, and children.
Find out how to get started as a professional and find your community.
Use writing exercises to get to know your characters and develop your stories.
Understand submissions rules and practices, including which mistakes to avoid.
Learn about how publishers sign manuscripts, and how to make sense of contracts.
Discover the publishing process: developmental editing, line editing, copyediting and proofreading, design, illustration, production, marketing, and distribution.
A 1:1 conversation with a mentor after the course.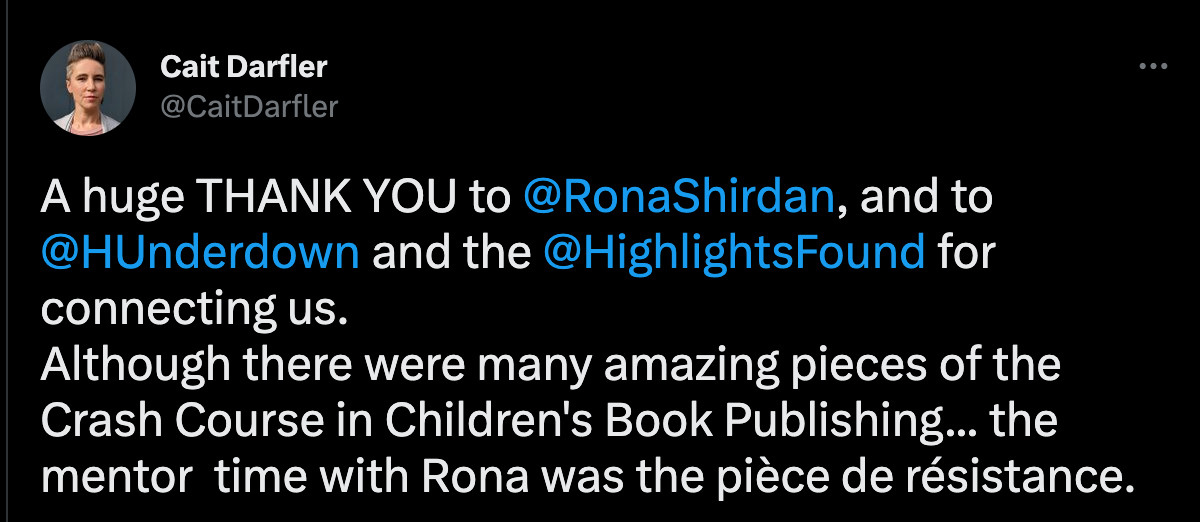 Sample Topics From the Crash Course
(Please note: these videos are from Crash Courses we held at our Retreat Center.  Lessons in our online Crash Course are delivered through a mix of live Zoom sessions and some pre-recorded content.)
Types of Books (In this case, picture books.)
On Finding (and Keeping) Your Why
More Testimonials from Our Community
"The experience was terrific. I learned a great deal. When I enrolled, I had been concerned about being able to get the full "workshop feeling" since the course was offered online rather than in person. My concerns were for naught. I felt that we made a good community even though we were not in the same room together! The presentations were thoughtful and thought-provoking. I appreciated the mix of craft and the nuts and bolts of publishing that instructors (special shout out to the fabulous Alison Green Myers and Harold Underdown!!!!), and guests shared with us. Discussions were substantive and fruitful. We did some powerful writing exercises together. The critiques of the writing samples we submitted were productive, direct, and kind. It is an art to give honest feedback without taking the air out of a writer! It was done so very well. I even met some nice people, remotely of course, but we set up a writing group that carried on long after the workshop was done. I recommend this workshop with enthusiasm!"
"I was able to confidently complete my draft and query letter. It was the highlight (no pun intended) of my year! Thank you. I am looking forward to working with my mentor, as well."
"I loved getting deep insight into the children's book world today and also a better understanding of the business of the publishing world and how to navigate it. It was a comprehensive overview – and the instructors were positive and supportive."
"I can't say enough about the instructors. The knowledge they shared was incredible and very non-threatening to one who is just trying to get started. I found encouragement in the midst of the reality of the hard work and time requirements."
"I am thrilled with this experience. So many of my questions have been answered and I learned a great deal. Harold is wonderful and I enjoyed listening to him. Allison did a great job, too, especially about query letters."