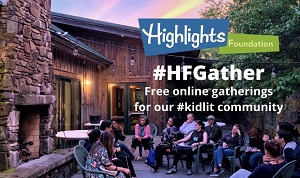 Free Online Sessions
#HFGathers are free online webinars for children's writers, illustrators, and storytellers at any level.  We'd love for you to join us in community.  All are welcome. We also hold occasional online Ask Me Anything sessions, where you can ask questions about upcoming workshops.
To get topics and dates as they become available, sign up for email notifications.
---
Upcoming #HFGathers
Check back soon for more Gathers!
---
Recordings of Past Sessions
When the COVID pandemic required everyone to stay home, we began #HFGather, a series of free online sessions to help us stay connected during that time. What we discovered is that we don't need to be on campus to feel our community. As our #HFGather host Sarah Aronson says: "We know how to make community even when we can't be together."
Below are recordings from past sessions that you can browse and watch at your convenience.
2022 #HFGather Recordings
---
2021 #HFGather Recordings
---
2020 #HFGather Recordings
Writer Chats with host Sarah Aronson
---
Illustrator Chats with Shadra Strickland and Pat Cummings