Personal Retreats at the Highlights Foundation:
Time to Focus and Recharge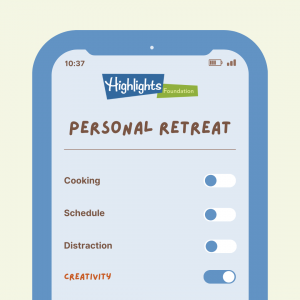 The Highlights Foundation offers personal retreat opportunities for our community at our campus in northeastern Pennsylvania, The Barn at Boyds Mills.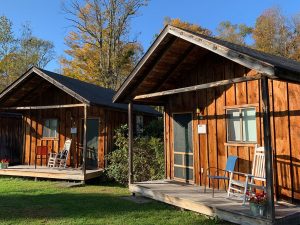 On your personal retreat, time is yours to focus on your work, be in nature, and spend as you please. No structure. No schedule (unless you make one). You can come as an individual, or in groups (friends, critique groups, writing partners, interest groups, and more).
We'll provide you with:
Shuttle service from local airport, train, and bus stations if you need it, or free parking on site if you drive.
A cozy, private place to stay, with a writing table and other amenities, including hot beverage center and round the clock snacks.
Breakfast, lunch, and dinner, with the choice to socialize as you wish with indoor and outdoor seating, or take meals back to your room if you wish.
Computers and printers available for your use, plus wifi throughout the campus.
Respect for the sanctity of your creative space.
Additional work spaces throughout the campus, both indoors and outside.
Many choose to focus their time on work during a personal retreat, but there is also plenty to do nearby, including 2.5 miles of hiking trails adjacent to the property and many local adventures and points of interest.
Choose Your Dates: Now Accepting Reservations Through Fall 2021

Please note your desired arrival/departure days in the comments when registering (or email contact@highlightsfoundation.org to check availability). We will do our best to accommodate, and get back to you right away. Please note: we need a minimum of six people on site to remain open for personal retreats. During the slower winter months, we may or may not meet that threshold. When you request dates we will get back to you with details, and can suggest alternate time frames if necessary. You could also bring your own small group.
Minimum stay is 3 nights at $500; each additional night is $150.
A 7-night stay is available for $1,000 (a savings of $100.)
Check-in time on arrival day is 2pm EST. Check-out time on departure day is 1pm EST. Meal service begins with dinner on your arrival day, and ends with lunch on your departure day.
If you have a group of 4+ and would like accommodations situated near each other, email contact@highlightsfoundation.org to discuss options.
Registration is on a first-come, first-served basis. Our all-inclusive price means we provide private lodging, all meals, unlimited snacks, and wireless Internet access. Shuttle service from nearby airport, train, and bus stations available. Please contact us for more information.

Learn more about personal retreats at the Barn at Boyds Mills. You can also see our COVID-19 policies here.
From Our Community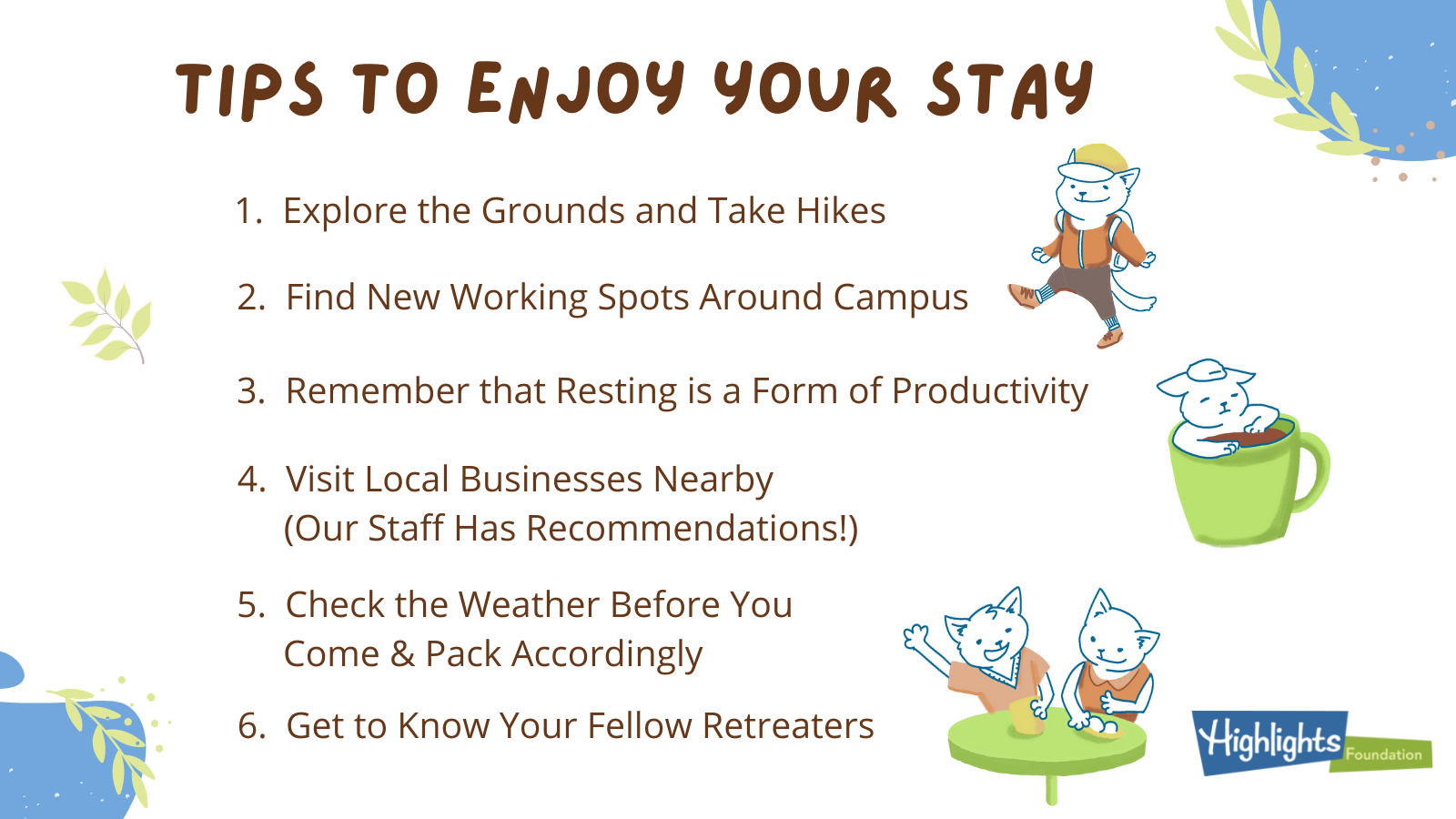 "Just what I needed…How terrific to be in such a beautiful place, given delicious food, and everything else I needed so that I could devote all of my attention to my manuscript…It was this writer's idea of heaven!" —Deborah Heiligman
"I felt so well cared for, seen, and known on this visit. Everyone who works in the Barn is so generous of spirit and kind. On top of LOVING the Jim Giblin cabin and the perfect food, the people made this trip truly warm and welcoming. Thank you for everything!"