Our campus is located at The Barn at Boyds Mills, a 5,200-square-foot gathering and dining space (The Barn), 21 cabins, a lodge, the Founders' farmhouse, and several other outbuildings located at the foothills of the Pocono Mountains in Pennsylvania.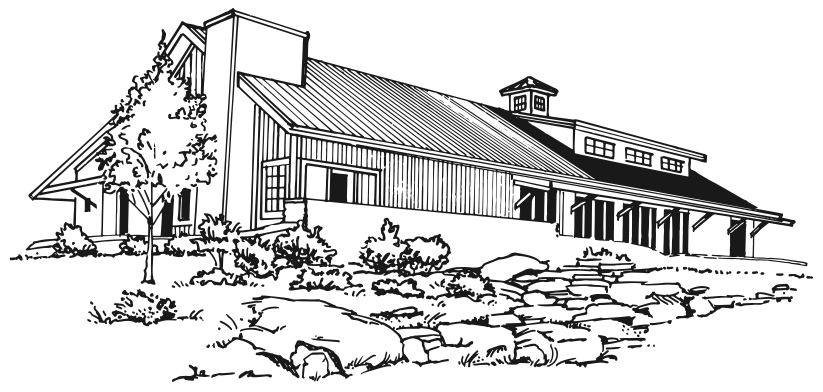 "How had I never known that the perfect writer's retreat existed at Highlights Foundation Campus? I had such a wonderful time finishing my novel at the campus, and felt fully supported by the staff, the faculty that was onsite with me, and the beautiful surroundings. I couldn't be happier and more grateful for the days that I spent there." (Venessa Kelley)
Join Us for an All-Inclusive Workshop or Retreat
On-site parking, or car service from our local airport, train, or bus station.
Comfortable lodging, with private accommodations and bathrooms.
Three farm-fresh meals per day with unlimited drinks and snacks.
All this is included with the craft and community that brings us together at the Highlights Foundation.
"When I first arrived in Boyd's Mills, I had no idea what to expect. What I found was a feeling similar to finding a secret door into a world where I belonged. People who thought and wished and dreamed and who loved words and putting them together just like I did! Each time I wind through the woods and turn onto the drive, I feel that same magic; I feel like I'm home." (Sally R. Flannery)
"I loved being able to look out on the woods as I wrote in my cabin. I loved taking walks along the trail from the word garden to the creek. That's a happy place for me, that little slice of trail. And I loved just taking it in and breathing deeply. A little serenity now." (Jason Hussong)
"For a person who is used to taking care of people all the time, it almost made me cry. The food so delicious and hot and on time, and just the space for light and quiet and warmth… indescribable how welcome you make me feel." (Laura Anderson)
Preparing For Your Time On Campus
What To Expect In Your Room
Sign on door with your name, and key in the door
Name tag (must wear)
Pillow, sheets, extra blanket
Shower/hand/face towels
Soap, shower gel, shampoo, and hair dryer
Soda, water, and coffee machine
Lights, table, chair, and guest book
Campus map, umbrella, flashlight, Tick Twister, bug spray, and hand sanitizer
Things to Bring (Suggested)
Tooth brush and tooth paste
Additional Toiletries (i.e. conditioner or facial cleanser)
Hairbrush
Slippers for room
Hiking shoes
Reusable water bottle
Extra medicine and clothes
"I felt so well cared for, seen, and known on this visit. Everyone who works in the Barn is so generous of spirit and kind. On top of LOVING the Jim Giblin cabin and the perfect food, the people made this trip truly warm and welcoming. Thank you for everything!"
Not sure how to get to campus?
You can take a car, bus, plane, or train.
Check the options and see what's most convenient for you here.
"Highlights felt like family from the first time I walked on campus. Everyone was friendly and welcoming. This solidified my impression that the children's book community was my home and point of connection around creativity." (Carrie A. Pearson)