Live Art Studio: Join Us
The announcement of our 2016 Artists-in-Residency program was met with great celebration. Like many of our friends, we too are grateful for the contributions that our 2016 artists have made to the field of children's books.
With the power of words, all of our artists have given children much to cherish. From Jerry Spinelli's Maniac Magee to Eileen Spinelli's Mr. Hatch, and from Meg Medina's Mia to Suzanne Bloom's Bear and Goose, the characters are beloved. Suzanne takes her audience a step further; the characters come to life through Suzanne's illustrations.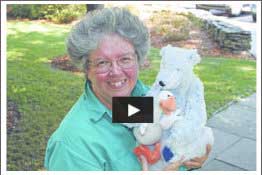 During Suzanne's residency, she plans to set up her studio in the belly of the Barn, complete with hanging illustrations, pastel chalk dust, and an ice-cream bar. (Actually, the ice-cream bar is at every Highlights Foundation workshop, but we'll stock extra just for Suzanne's studio week.)
Suzanne also plans to work with Unworkshoppers at the residency, with office hours for consultations and nightly feedback on works in progress. If you have an illustration project or a picture book for the very young that you are near finishing, bring it along with you to Suzanne's residency. We'll save some ice cream just for you.
Posted on: September 5, 2016
Tags: 2016 workshops, artists-in-residence, faculty spotlight