Ann Treacy: Finding Treasure at a Workshop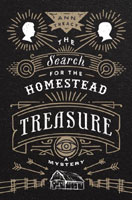 As a freelance writer for various magazines including Highlights For Children, I've always had an interest in writing novels. Not long after attending a Whole Novel Workshop moderated by Helen Hemphill (one of three Highlights Foundations conferences I've been lucky to attend over the years) I sold the middle grade novel I worked on there. The wheels of publishing do turn slowly but I'm happy that The Search for the Homestead Treasure has just been released from the University of Minnesota Press!
Set in 1903, this is the story of a farm boy who befriends a Gypsy he meets…underwater. Based on frightening stories my grandmother told of Gypsies who roamed the countryside when she was a girl, I took to heart advice from Patricia Gauch at a Chautauqua conference, "Portray people as they were perceived," but added an element of "what if" you actually got to know one of those forbidden kids.
Recently in this blog, writer Julia Garstecki spoke of receiving ongoing advice from a conference instructor. Helen Hemphill has remained a touchstone for me and I am pleased and humbled to have an endorsement from Helen on my dust jacket:
"Martin is a quiet character who will not let go of my heart! While his story is one bound in family and history, his struggles and grit will speak to every modern young reader who knows loss and heartbreak. Treacy's message of perseverance and hope makes Martin a protagonist to root for and a boy never to forget."
---
Writer Ann Treacy has attended Chautauqua '98, The Hero's Journey '05, and the Whole Novel Workshop in 2012. Learn more about her at www.anntreacybooks.com.
Posted on: June 17, 2016
Tags: attendee guest post, mentorship, student spotlight, Testimonials