Congratulations, Don Tate!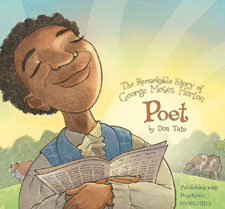 We recently caught up with Don Tate to find out about his Ezra Jack Keats award-winning book, Poet: The Remarkable Story of George Moses Horton. The book tells the true and moving story of George Moses Horton, an enslaved man from North Carolina who taught himself to read and write. Horton memorized poems early on then cultivated his own poetry becoming the first African American published in the South.
If you haven't read our interview with Don, please jump on over to our blog post. Don previews his upcoming releases in our talk, as well as shares his journey in finding writing mentors. He also discloses his secret plans for his upcoming workshop, The Journey, which he will host with Carmen Oliver, author and founder of the Booking Biz.
Don and I continued to chat after the interview. I know he won't mind if I share with you some "off air" conversation. When I asked who he hoped might find their way to his upcoming workshop, he said:
"…Big dreamers, visionaries. You've met them before, people who have a clear vision of some dream or goal in life. They're excited and openly share their vision; they hold nothing back.
On a flight back to Austin recently, I sat alongside a young rapper. He was coming here to perform at SXSW. He told me all about how he became a barber and then a rapper and how he planned to sign with a big label someday. 'Give me a year, and I will sign with Jay Z,' he said. He was all smiles; his eyes were filled with stars. Listening to him talk about his dream reminded me to keep dreaming, to keep thinking big. So that's who I want to sit next to and chat with at the Highlights Foundation, writers and/or illustrators with their heads in the stars!"
If you have your head in the stars, please join Don at The Journey. We hope to see you there.
Posted on: April 13, 2016
Tags: faculty spotlight