Alpacas, Woodstock + Time to Write: Labor Day 2021
We asked our Program Manager Christine for help updating our "Recreation and Local Experiences" page for the new Barn at Boyds Mills website. (That's where we hold our Highlights Foundation Personal Retreats.) She lives near the retreat center and always has some great ideas.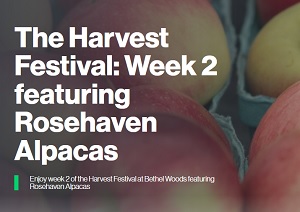 She told us about the Harvest Festival at Bethel Woods.
Bethel Woods is the original site of Woodstock, and its only about a half hour's drive from the Retreat Center. They have a Harvest Festival every year over several weekends in the Fall.
Weekend 2 occurs over Labor Day this year, and it features the Rosehaven Alpacas! Christine says it's a big deal locally. Admission is free except for a $5 parking fee. Find out more.
Also happening that weekend is the Farmhouse Project Makers Market, a modern interpretation of the traditional craft fair. It's a unique two-day market of carefully curated artisans from local studios and workshops throughout the region, as well as local farm-to-table cuisine; craft beer, wine, and spirits; and live music. It will be held in a newly restored 1859 barn in Callicoon Center, NY, about 25 minutes from our Retreat Center. Find out more.
These activities are perfect because:
1) We have space if you want to take a Personal Retreat over Labor Day weekend.
2) Even if you can't use it for inspiration or back matter research, an Alpaca Festival is still pretty cool! (And scroll down to see some Alpaca picture books!)
Check in with us for a Personal Retreat on Friday, September 3 and depart Monday, September 6 for $500. Then, if you have your car, take a side trip to see the Alpacas on Sunday from 11am-4pm, or take a drive over to the Makers Market on Saturday or Sunday from 11am-6pm.
You can also add additional nights to your stay for $150 each. Register here and mark your preferred dates in the comments: https://www.highlightsfoundation.org/programs/3123/personal-retreats-3-nights/. Other friends and groups are also welcome, even if not everyone is a writer or illustrator.
P.S. We also have general availability for Personal Retreats through Fall 2021. We hope to see you soon!
P.P.S. If you want to see the other things to do near our campus as you plan your visit, see that page Christine helped us with here: https://thebarnatboydsmills.com/recreation-local-experiences/.
Don't alpacas make a great picture book subject?


Refresh your memory about Woodstock before you come, or share with your kids:

Posted on: July 24, 2021
Tags: personal retreats