Teachers & Librarians: Is Kidlit Your Next Career?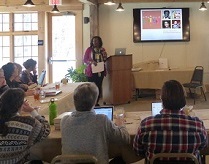 We've hosted many teachers and librarians at our workshops over the years–and that just makes sense, doesn't it? Working with children and young adults can definitely give you an advantage when it comes to writing for young readers: you know what they like, you've listened to their conversations and you've watched them interacting with each other. How do you translate all of this observation into a kidlit writing practice? We've pulled together some helpful blogs to get you started.
The Top 10 Myths About Writing Children's Books
You might believe that you're very familiar with children's books, but take a quick look at these common misconceptions and double-check your thinking! Read more.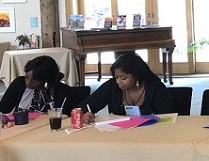 Investing in Your Writing
How are you making time to chase your kidlit dream? Author Leah Henderson talks about how you have to make your dreams a priority in order for them to take root and flourish. Read more.
Writing Books for Kids is Hard, But You Can Totally Do It
Author Tracey Baptiste ponders the differences between writing for younger and older kids, and has some advice about choosing exactly the right words for your story. Read more.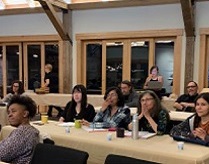 Relax Into the Story
Some inspiration about process from poet/author Eileen Spinelli: How can you love the work if you're already a mile down the road worrying about whether it's going to be published? Keep your focus on the most important thing – the work itself, the fun, the joy, and the struggle of writing. Read more.
Investigate, Observe, Document, Evaluate: A Process to Write for Young Readers
Author and educator Kristy Dempsey shares about wading through vast amounts of information and tightening her writing focus. Read more.
How to Write a Children's Book: Get Started With These 5 Steps
If it's time for you to buckle down and pursue your writing dream, here are some resources and workshops to get you on your way. Read more.
---
Kidlit Workshops That Are A Great Fit for Teachers & Librarians
Crash Course in Children's Publishing: Everything You Need to Know
We offer this online course several times each year. Find out more.
Writing First Chapter Books and Early Readers
Find out the differences between picture books, early readers, and transitional chapter books. Learn about the market and how to find the right publishing home for your work. Get one-to-one critiques of your work from faculty author-editors. Find out more.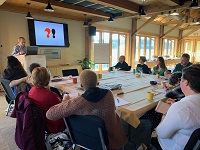 PB&J: Picture Books & All That Jazz
Dig deep to dissect and understand current picture book bestsellers to find the best way to tell your story. Study picture book craft, format and components: character, plot, rhyme, audience and more. Get one-to-one critiques with all faculty and hear editor feedback from an acquiring editor. Find out more.
Writing for the Educational Market
Understand the guidelines for submitting to educational publishers. Learn techniques for meeting specs, leveling text, and producing submission packages. Receive one-to-one consultations with faculty and interact with editors at educational publishing companies. Find out more.
Summer Camp in Writing Fiction for Children & Teens
Summer Camp in Writing Nonfiction for Children & Teens
Our Summer Camps feature daily educational and inspirational keynotes; daily feedback from a faculty mentor; time to work on your craft; daily hands-on sessions; and a community of fellow writers. It's a perfect way to start exploring the world of kidlit and to get feedback on your writing. Find out more about our fiction camp or our nonfiction camp.
The Craft & Heart of Writing Poetry for Children
Immerse yourself in writing poetry and working on your craft. Share your passion for poetry with peers and published poets in an intimate setting. Complete writing exercises to inspire new poems. Learn about the elements of poetry, from word choice to metaphor. Make new friends! Find out more.
Posted on: March 13, 2020
Tags: career, getting started, inspiration, writing tips