Don't Give the Negative Voices a Chance to Shine: Melissa Iwai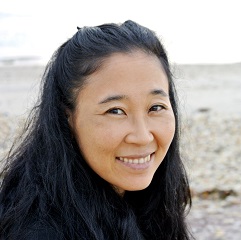 Author/illustrator Melissa Iwai was a Special Guest for our Writing for Illustrators workshop in 2019. Because she works broadly from board books to nonfiction, she brought a great perspective to the workshop.
Illustrator and writer Berrie Torgan-Randall heard Melissa speak at last year's SCBWI Pocono Retreat, and sent us this reflection on Melissa:
In April 2019, I got the chance to attend the annual SCBWI Pocono Retreat. The first night at the conference we participated in an icebreaker to find out what our table had in common. I thought I had a good handle on what I was going to say but then I introduced Melissa as Linda because she used to work for Linda.com. Melissa and I found out we have a lot in common. Besides both being passionate author/illustrators we are both shy and don't feel comfortable talking in front of large groups.
Even though Melissa was initially nervous and didn't know what to say, she prepared a thoughtful, honest, and engaging presentation during her keynote speech. Melissa reflected on her whirlwind year of working on multiple projects and how her non-stop schedule (sleeping no more than a couple hours a night) came to a screeching halt. Because of her exhaustion and the need for surgery to repair her elbow (due to over use of her arm) she realized that she had to exercise self-care–including getting a handle on her mental state by quieting her inner critic.
As creatives, we are our own worst critics. Melissa was no exception, even though she is a highly successful illustrator. My notes from her talk include these self-care tips:
"Don't beat yourself up while doing art work."
"Don't give the negative voices a chance to shine."
"Celebrate your successes."
"Ask yourself–how can you have the best time creating?"
Melissa is a great teacher who cares deeply about her students. She not only gave an engaging look into her life as an author/illustrator during her keynote address, but also taught an amazing workshop, which included a huge packet of take-home materials. We can all learn from Melissa's daily practice of writing and illustrating but also learn from her advice and just: BREATHE.
Thanks, Berrie! Find out more about illustrator and writer Berrie Torgan-Randall at her website: www.berrietr.com.
Posted on: August 20, 2019
Tags: faculty spotlight, Iwai