Faculty Interview: Cori McCarthy
If you've ever visited the Foundation, you may have found your way up the stairs of the Barn and into our loft. Light seeps through one window, casting a cozy glow in the room. Last spring, I found my way into the loft as a student during Sarah Aronson, Cori McCarthy, Emma Dryden, and company's inaugural Getting to Know Your Novel workshop. We were two days into a five-day retreat, ready for our one-on-one critiques from the faculty.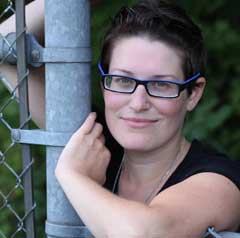 Cori McCarthy found their way to the loft that afternoon, too, and we talked about recent YA books that we loved. I had just finished reading We Are OK by Nina LaCour. There was much to discuss. (Certainly much to discuss in the way that if we spent time talking about Nina LaCour's gorgeous book, we wouldn't spend too much time talking about my work-in-progress — i.e. the reason I was in the cozy, charming loft that April afternoon in the first place.) But Cori is a gifted teacher. They knew I was stalling. They humored me just long enough to hear what I thought about LaCour's latest book and then barreled into my own story.
Their in-person critique was strong, guided by pages and pages of tight notes on the opening 50 pages of my novel: positives with extra exclamation points accompanied by lists upon lists (upon lists) of ways to push my words and YA worlds. Heavily detailed on both the !!! end and the "You've got loads of work to do" end. It was far and away the most thorough critique I had ever received from another author. Cori was professional and encouraging. They made me feel that the mountain of work before me was just waiting for me to hike up my skirt and climb.
Later that week, Cori went on to lead a two-hour session on scene-building. Cori pulled in their cinematic studies as well as their analysis of award-winning novels and novellas. I can't believe my good fortune to learn from Cori and feel even luckier that they've agreed to come back to the Foundation this year to teach a new class for beginning authors centered on their deep knowledge of scene structure and world-building.
We caught up with Cori this week to find out about upcoming projects (including opportunities for you to work with them at the Foundation and at The Writing Barn in Austin).
Alison Green Myers: Hello, Cori! Welcome to the blog! We are eager to hear about new projects that you have in store. Can you give us a preview of your upcoming YA releases?
Cori: My pleasure! I'm currently in the throes of a major deadline on a book that I coauthored with my partner, Amy Rose Capetta. The story is an inclusive retelling of the King Arthur canon with a sci-fi twist, complete with swords, spaceships, a Renaissance Faire planet, a girl King Arthur, and teenage Merlin (he ages backwards, you know, and this is very far into the future). This space fantasy duology is called Once & Future and will be releasing from Little, Brown in the spring of 2019 and 2020.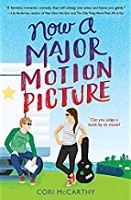 This spring — only a month away! — I'm excitedly awaiting the release of my fourth YA novel, Now A Major Motion Picture. This contemporary YA is spliced with high fantasy, filmmaking, first love, and feminism. It's a love letter to both J.R.R. Tolkien's world and Peter Jackson's adaptations, both of which were influential in teaching me how to capture worlds through the narrative lens.
Alison: Along with your writing, we know that you are a teacher at VCFA and the Highlights Foundation, and recently we heard the great news that you are headed to visit our friends at The Writing Barn with a brand-new class this spring. Can you tell us about the Rainbow Weekend Intensive?
Cori: Yes! I'll be traveling to The Writing Barn this month to meet with a group of LGBTQIAP+ writers. This is the first craft-focused retreat specifically designed for YA and MG writers with marginalized genders and sexualities — to help launch careers and get more #ownvoices stories out into the world for readers to fall in love with. My partner and I are planning the retreat with The Writing Barn, and we're delighted to have agent Jim McCarthy (no relation [to me]) joining us.
Alison: This year we have 20 young adult and middle-grade authors joining Getting to Know Your Novel. I know they will be treated to some killer critiques from you (and all!). As I mentioned above, we feel especially lucky that you will return this fall to host your own workshop with special guests Kristen Simmons, Sage Blackwood, and Amy Rose Capetta. This workshop, Beginner's Class in World Building and World Conjuring, is brand new to our retreat center. What should writers expect to learn in this course?
Cori: I am SO excited about this workshop. World-building is a large topic, but I'm looking forward to walking writers across the three major stepping stones of crafting believable, tangible, and relatable worlds.
While I've written several genre novels (literary science fiction, thriller science fiction, high fantasy, and space fantasy), I've found that being able to succinctly and vibrantly capture setting is an essential part of all storytelling, not just fiction set in other worlds. Picture books, novels in verse, contemporary, historical fiction, you name it — they all use this same skill set. I can't wait to develop new worlds alongside our writers and experiment with techniques for capturing our world in surprising and resonant ways.
Alison: Thank you for chatting with us today! Congratulations on your April release, Now A Major Motion Picture! We look forward to seeing you soon!
Cori: Thank you!
Posted on: March 10, 2018
Tags: faculty interview