Workshop Spotlight: Writing Horror and Haunted Novels
"This was the best thing I've done for my writing & career outside of actually getting published. I would live at Highlights if I could!"–Books with Bite attendee 2016
Last fall at our Books with Bite workshop, we welcomed writers who were working on all manner of twisted and unsettling novel projects. There were ghost stories and dark magical realism, fractured fantasy worlds and eerie thrillers, as well as horror and the occasional murder (on the page!).
Over the course of the four days, we workshopped the opening pages of everyone's novel, we discussed the books that scare us and pinpointed how and why, we produced new work on the spot from writing prompts, we talked deeply about revision plans and next steps, we tackled craft issues and industry questions, we shared readings, and, best of all, we witnessed a bond form among the attendees that is lasting to this day. Also, it must be mentioned, we devoured the notoriously delicious Highlights food.
If the creepy theme of the workshop makes you worry, be assured that you will surely get some shivers from the workshop reading but you will also find solid support for your writing and much inspiration to take home with you as well.
Here are just a few things said about the workshop:
"Nova and Micol's Books with Bite Workshop & Retreat delivers a valuable mix of craft, community and inspiration in an incredible autumnal setting. Definitely recommended for writers of dark and creepy kidlit looking for a productive escape."–Elena Perez
"[Micol and Nova] offered both micro and macro guidance on my novel and, most importantly, they truly enabled me to wrangle out its heart. For anyone who wants an experience that will shape who they are as a writer, I would highly suggest this workshop."–Autumn Krause
"Your tool box will be full and friendships will be forged that will last forever."–Melissa Gould
If this sounds enticing and you're writing something you'd consider dark & twisted—whatever the genre may be, we don't have any limits, and you certainly don't have to be writing horror–consider joining us for Books with Bite workshop-retreat at Highlights.
–Nova & Micol
---
About Nova Ren Suma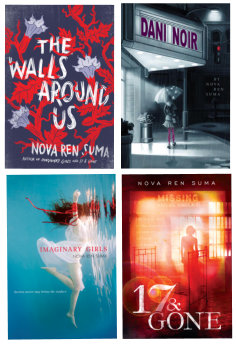 Nova writes dark psychological suspense, magical realism, and ghost stories. She says, "My own novels tease at the edge of the horror and paranormal genres and sometimes get categorized one way or the other, but the truth is I am stealing what I can from every genre that enchants me and blending it all together in a mad mix. Dani Noir (also known as Fade Out, as it was renamed for the paperback reissue) is inspired by film noir and hard-boiled mysteries and also sweet coming-of-age stories. Imaginary Girls is magical realism but also about the love between two closely entwined sisters. 17 & Gone is a psychological thriller that may or may not be what it seems. My newest novel, The Walls Around Us, is a ghost story and a revenge story–with some suspense and surreal twists thrown in."
Read Nova's guest blog posts:
On Writing the Dark & Twisted
Write What Scares You
About Micol Ostow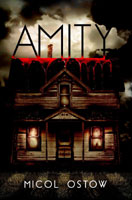 Micol's horror novel, Amity, was hailed by both Buzzfeed and the New York Public Library as one of the top YA horror novels of fall 2014. Her graphic-hybrid novel, So Punk Rock (and Other Ways to Disappoint Your Mother), was named a 2009 Booklist Top Ten Arts Books for Youth Selection, a Booklist Top Ten Religion Books for Youth Selection, an Independent Publisher Book Awards Silver Medalist in Multicultural Fiction, and a Sydney Taylor Notable Book for Teens.
Read Micol's guest blog post:
My Top 5 Tried and True Horror Tropes
Posted on: July 31, 2017
Tags: Books with Bite