Day 4: The School Visit
DAY 4: THE SCHOOL VISIT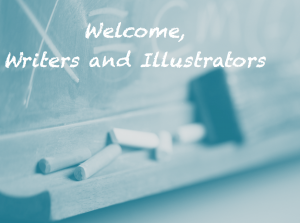 By the time our authors and illustrators reach Day 4 of Crafting Successful Author Visits, they are well prepared to step in front of classes full of children, which is timely because on Day 4 of the workshop, they give presentations at local schools.
Day 4 might look something like this:
6:00 a.m. – The alarm doesn't need to wake you. You're up! Did you even sleep?
7:15 a.m. – You check your supplies and think about Carmen Oliver's advice the day before: "Bring more than you think you need, because you never know what the kids will really need."
8:00 a.m. – You walk into the Barn and sit next to the other presenters. Do they look nervous, or excited, or both? The mix of feelings isn't lost on you. Amanda walks in with Morning Glory muffins, and the nerves fade just a bit.
8:35 a.m. – Jan Cheripko sits down next to you at breakfast. He asks how you are feeling. He sees how you are feeling. He knows how you are feeling, so he says, "You are prepared. You've got this!" And he's right. You've got this! You've been working all week with Sudipta, Jan, Carmen, and Peter to create your presentation and perfect your public speaking persona. You've been working on this story for years. You know it so well. Now is the time to share it with kids.
9:00 a.m. – You load into the van with all of your supplies and ride to the local middle school. Do the roads out here really need to be this windy? Well, at least you don't have time to let the nerves re-enter your stomach, what with the hills and valleys making you feel like you are on a roller coaster.  Then someone asks, "What was Sudipta's advice for calming your nerves?" The whole van contributes snippets from Sudipta Bardhan-Quallen's advice from (way back on) the first night of the workshop.
9:20 a.m. – You arrive at the school. Hey, it smells like a school. Look, the people are all smiling. The energy from the kids starts to infuse the energy inside you. An administrator hands you a "VISITOR" sticker. She says, "I wish we had a sticker that said V.I.P." Now you smile. She says, "The kids are so excited to meet you. Thank you for coming in today." You swallow back that darn lump that just jumped into your throat and follow her into a classroom.
9:30 a.m. – Suddenly, Peter Jacobi's voice enters your head. All of his reminders come flooding back. Like Peter suggested, you introduce yourself to the classroom teacher and ask where he would like you to set up. You make eye contact with as many students as you can while you set up. You smile at them. They smile back.
10:00 a.m. – The teacher says something, but you can't really hear him because of the thump of your heart. It's a good thump – the kind that lets you know that this is a big deal, and that you are ALIVE. Really alive. You hear your name and the name of your book. The kids turn to you and watch you walk to the front of the room. Your voice quakes just for a second as you begin, but that kid, the one who smiled at you a moment ago, leans toward you as you talk, and you remember why you are he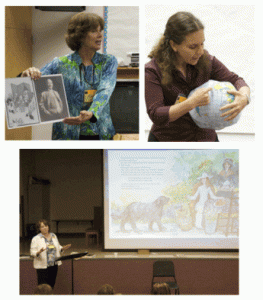 re.
10:01 a.m. – You give the presentation that you prepared with Sudipta, Carmen, Jan, and Peter. Time seems to pass faster than you have ever noticed. Faster than that car ride. Faster than expected. Before you know it, hands are shooting into the air to share with you what THEY wrote and ask you questions about your work.
11:00 a.m. – You realize the teacher is trying to get your attention. At first you think, But I have five more minutes, and then you realize he is pointing to a kid in the back of the room – a kid who definitely did not smile at you when you entered the room an hour earlier. You won't know this then, but later the teacher will send you a thank-you note that says this kid needed to hear your presentation on that day – that your work really spoke to her.
11:15 a.m. – The van feels different when you step inside. Everyone, all of the other presenters and videographers, talks about the experience. The roads don't feel as windy on your return. Or maybe you just don't notice because you are listening so intently to your fellow presenters chat.
12:00 p.m. – Lunch tastes better than any other meal that week. How does Amanda do it? And how did she know that you were craving those ricotta cookies?
1:00 p.m. – You go for a walk along the creek after lunch to listen to the sounds of the water and the calls of the birds.
2:00 p.m. – The faculty plays back videos from the day. You are grateful that you aren't the first presentation played back. You are also grateful you get to see everyone else's presentations. They are funny and fascinating. Hey, it looks like they answered some of the same questions that you did.
4:00 p.m. – Now it's your turn. You relive your nervousness. Laugh at yourself for stumbling over the word, "impossible" – how could you have said, "impissible"? And then comes the question from that girl in the back row – her intense eyes, her sincerity.
5:00 p.m. – Peter gives you many tips after viewing your session. You write feverishly to capture his words. Then he leans closer to you and smiles. "Well done," he says. "Well done."
Peter, Jan, Sudipta, and Carmen would love to work with you, too! There are only two spots left for this hands-on workshop that culminates with a school visit.
CRAFTING SUCCESSFUL AUTHOR VISITS 2017 | MAY 7 – MAY 12, 2017
Create and deliver an impressive school visit with our faculty by your side.
School visits are a powerful way to get your book into the hands of readers. But how do you take what you've written or illustrated and turn it into an attention-grabbing presentation for kids? In "Crafting Successful Author Visits," you will learn strategies for creating and delivering engaging talks, information on developing materials for teachers and students, and guidelines for developing other promotional tools.
Posted on: April 1, 2017