Wayne L. Murphy: See some magic in the world
Wayne recently attended our Crash Course workshop, and wanted to share some thoughts about his time with us. Thanks, Wayne!
When you grow up, you sometimes forget that there is magic left in the world. Maybe it comes in different forms, but if you stop, once in a while, and take in the beauty that surrounds you, you can see that it is still there.
I was privileged to receive some much needed magic in my life, recently.
High up in the Pocono Mountains, I attended a writers workshop for publishing children's books, a course given by the Highlights Foundation.
The material that was presented, and the instructors, themselves, were invaluable. Each one of them taught us something different, new, and even fascinating.
The classes were a great source of information which I intend to follow, as I attempt to publish my first children's book. But even more than that, the facility and surroundings seemed to ease my mind and allow me to open up.
I had several new ideas and I started writing a few stories. I even wrote a children's poem about an owl. Read more.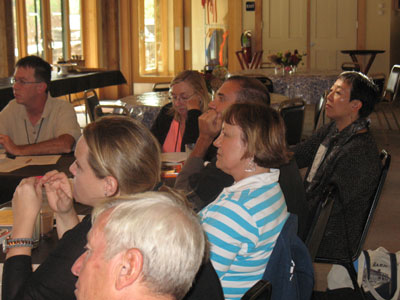 Posted on: October 5, 2015
Tags: attendee guest post, crash course, Testimonials, The Experience