Dhonielle Clayton & Sona Charaipotra: Meaningful Collaboration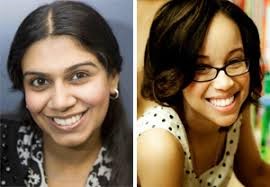 Creative companions Dhonielle Clayton and Sona Charaipotra are co-leaders of Responsible Representation: Writing Diverse Commercial Fiction for Middle-Grade and Young Adult Readers.
We're excited about this new workshop and thrilled to have Dhonielle and Sona join our faculty. Not only do they write really cool books, but they are very involved in the children's book community and are eager to help new writers grow and flourish.
Get a preview of the unique Dhonielle-and-Sona energy through some of their interviews:
Four Questions for…Sona Charaipotra and Dhonielle Clayton, Publishers Weekly
On the publication of their first book together, Tiny Pretty Things, in this interview the two talk about their friendship, goals, and collaboration.
"There's no secret sauce [to collaboration]…we just play to our strengths, and we're not precious about it if we need to say 'you need to rewrite this.'"—Dhonielle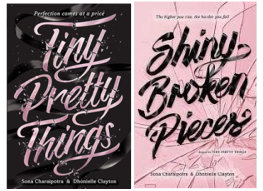 Ballerinas Behaving Badly: Sona Charaipotra and Dhonielle Clayton on "Tiny Pretty Things," School Library Journal
The two authors discuss their writing process and what inspired them to create CAKE Literary, a book packaging company for diverse teen books.
"We each have our own strengths and when they come together they make something that's so unique. It's a different voice for both of us."—Sona
"We wanted to reach back and bring people with us."—Dhonielle, on founding CAKE literary
"Dhonielle and I have found a few mentors on our publishing journey, and that was so key. Sometimes it's hard for people from diverse backgrounds to find people in which they recognize a little bit of themselves. Being able to find mentorship in the book publishing world has been so revitalizing. If we could do that for someone else, that would be such an amazing thing."—Sona
Sona Charaipotra on Writing Collaboration, on Pub Crawl.
Sona talks specifics about writing with a partner.
"Publishing can be a rough ride, so I can't overstate how awesome it is to have someone so fully in your corner."—Sona
Just for fun, watch Sona and Dhonielle play a game of "Would You Rather" on #EpicReads:
Posted on: July 6, 2018
Tags: faculty spotlight