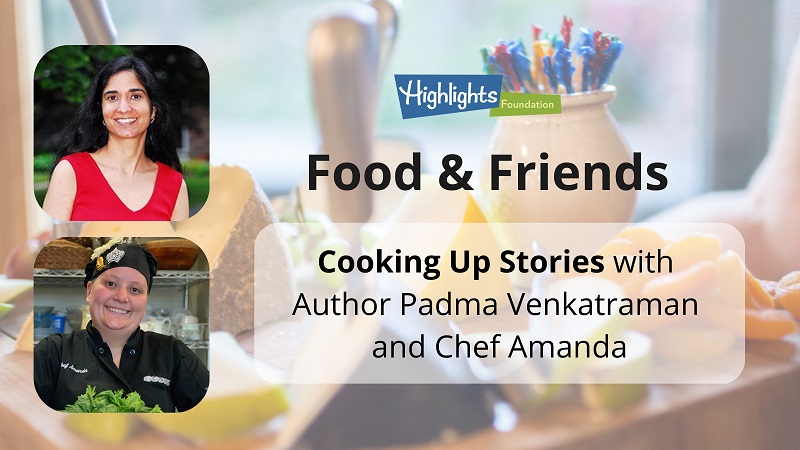 Every month, our Chef Amanda and author Padma Venkatraman pair up to share a recipe and writing prompt for our Highlights Foundation family. Padma creates the prompts based on a book from one of our Highlights Foundation faculty, and Chef Amanda shares a recipe from the kitchen at the Barn.
March 2022
Book: A BIRD WILL SOAR, written by Alison Green Myers
A BIRD WILL SOAR is a moving tribute to family, friendship, and home. I had an opportunity to read an early version of this book and then was asked to provide a blurb, which reads, "Lyrical descriptions of birds are woven seamlessly into the plot of this heartfelt debut."
Each chapter of this novel for middle grade readers begins with a poem, short factual quote, or fictional email. The narrative flows following each of these chapter headings. Poem, then prose. Fact, then prose. Fictional email, then prose.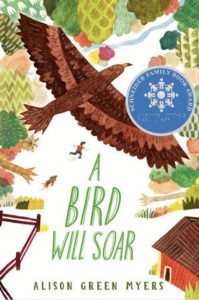 Here's just one example:
CHAPTER ONE
Mysteries
The wonder of things—
of wings
of sky
of Mother Nature's secrets
packed inside
scattered seeds.



THE WORLD IS FILLED WITH MYSTERIES.
Clues, everywhere—cracked shells, forgotten feathers, deep prints left in soft soil.
Axel gathers clues wherever he goes. From the four walls of his bedroom to the rushing creek and deer-spotted trails tucked behind his house, he wanders and wonders.
---
The first chapter goes on from this page to introduce us to Axel, the main character's special world which includes an eagle's nest, his family (who loves to eat all kinds of pasta!), his friends, and more.
Writing Prompt:
Write your own short story inspired by, or paired with, a poem or a factual quote you find interesting. Find threads between the poem (or fact) and the narrative of your short story. Then, perhaps you might enjoy trying out the recipe below from Chef Amanda – and even have a "pasta palooza" celebration with friends and family, just as Axel does in the novel.
<h3″>Recipe from Chef Amanda: Homemade Pasta
Ingredients:
4 large eggs
2 1/2 cups of all-purpose flour
1 tablespoon of olive oil, in 1 teaspoon of salt
Pulse ingredients together in a food processor or mix them by hand and kneed until smooth. Wrap in plastic wrap and leave in the refrigerator for at least an hour to chill but no more than two days.
Dust 2 large baking sheets with flour and set aside.
Slice the dough into four pieces. Gently flatten one into an oval disk. Run the dough through the Pasta Roller Attachment three times on level 1 (the widest setting).
Set the dough piece onto a countertop or work surface. Fold both short ends in to meet in the center, then fold the dough in half to form a rectangle.
Run the dough through the pasta roller three times on level 2, three times on level 3, and one time each on levels 4, 5, and 6.
Lay half of the pasta sheet onto the floured baking sheet and sprinkle with flour before folding the other half on top. Sprinkle more flour on top of the second half. Every side should be floured so that your final pasta noodles won't stick together.
Repeat with remaining dough.
Run the pasta sheets through the Pasta Cutter Attachment, either linguine or angel hair. Repeat with remaining dough. Cook the pasta in a pot of salted boiling water for 1 to 2 minutes.
Serve with your favorite sauce such as pesto, marinara, Alfredo, or simply buttered with some Parmesan cheese. These noodles also work great for soup. Cook as directed above and put in your favorite soup recipe.
---
About the authors–and the chef!
Padma Venkatraman is the award-winning author of five novels for young people: Climbing the Stairs, Island's End, A Time to Dance, The Bridge Home, and most recently, Born Behind Bars (a companion novel to The Bridge Home). Born Behind Bars is a Parents Magazine Book of the Month book club pick and Junior Library Guild selection. It was released to starred reviews this fall, and is on Kirkus, SLJ, and other best book of the year lists. The New York Times Book Review described Venkatraman's writing as a "confidently stripped down, crystalline style…Borrowing elements of fable" and the Providence Journal called Born Behind Bars a "tale of hardship and hope, capable of making a grown person cry." Follow Padma on twitter (@padmatv), visit her website www.padmavenkatraman.com, or meet her on ig/fb (@venkatraman.padma).
Alison Green Myers is an avid reader, poet, and writer. She has served as a classroom teacher, literacy coach, curriculum writer, and school director. She is the Program Director for the Highlights Foundation, a National Writing Fellow, and an active member of the Society of Children's Books Writers and Illustrators. A Bird Will Soar is her first book for middle grade readers and is the recipient of the 2022 Schneider Family Book Award.
Amanda Richards is the executive chef at the Highlights Foundation. Although her scholastic background is in elementary education, she has always had a love of cooking and apprenticed under chef Marcia Dunsmore here at the Retreat Center. She's a Food Network devotee and grew up watching Julia Child.