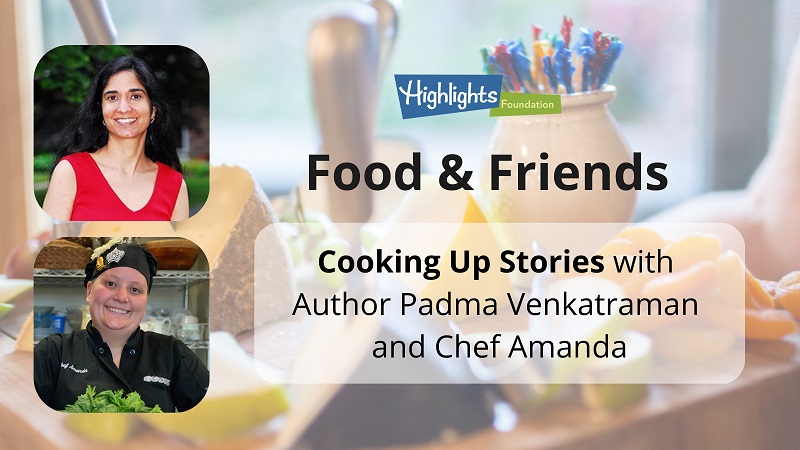 Every month, our Chef Amanda and author Padma Venkatraman pair up to share a recipe and writing prompt for our Highlights Foundation family. Padma creates the prompts based on a book from one of our Highlights Foundation faculty, and Chef Amanda shares a recipe from the kitchen at the Barn.
May 2023
Hands, written by Torrey Maldonado
Jacqueline Woodson, winner of the Hans Christian Andersen Medal and nearly ever other major award and honor in the field of young people's literature, describes Torrey Maldonado as a "force in the world of young people's literature." His latest novel Hands is " a poetic page-turner" according to Adam Gidwitz, Newbery Honor-winning author of The Inquisitor's Tale.
The narrator of Hands is Trev, who lives with his mom, sisters, and stepdad. His mom and sisters are loving and kind. His stepdad doesn't always make the best choices with his hands. Trev's stepdad is capable of domestic violence and although he got "taken away", the threat of his return looms large. Trev is a talented artist, but he figures if he can learn how to box, he will be able to keep his beloved mom and sisters safe from his stepdad.
Thanks to some of the other men in his life, and his mom and sisters, Trev begins to wonder if throwing hands is more likely to endanger everyone, including himself. He has to – literally – choose what to do with his hands, which hold his future.
Torrey Maldonado has always found his way, as an author, into the words and worlds of his teen characters. Like fellow contemporary author Laurie Halse Anderson, Torrey Maldonado excels in capturing conversations that reflect the cadence of teen speech. For example, read the excerpt below from Chapter 25 of Hands.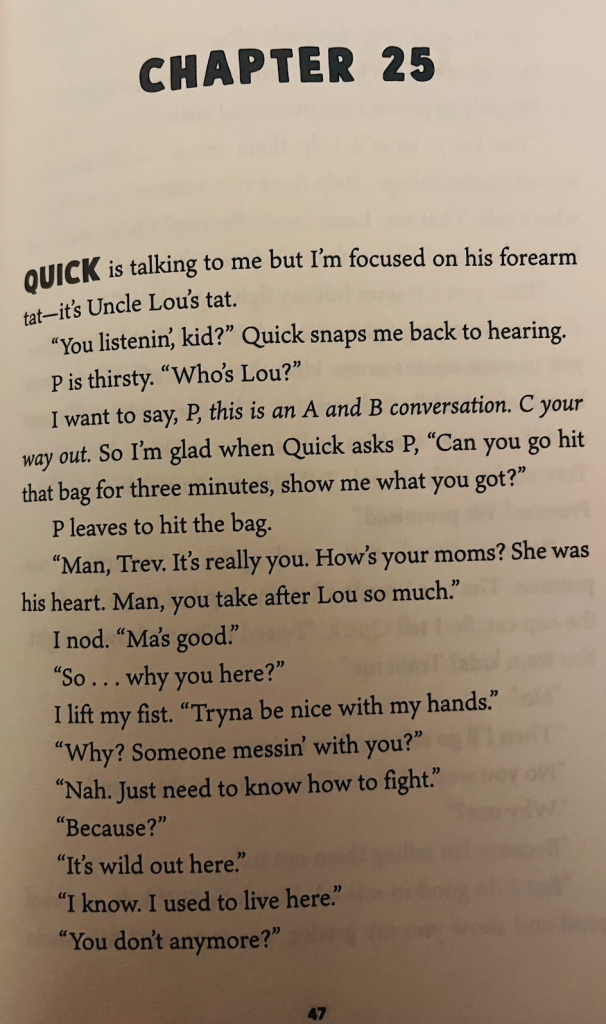 Writing Prompt
How can we lean into teen speech and write dialogue?
Take a notebook to a place where you can unobtrusively listen to others' speaking to one another (this may even be from your own living room.) You might look for opportunities to listen to those who are of the approximate age of your protagonist (if that is appropriate). Consider, if you're writing a historical fiction novel, listening to a film that authentically portrays the era of interest.
Listen to the rhythms of speech. To the music of exchanges. Do you hear specific slang words that you don't understand? How does the speed or pitch of a voice suggest the emotion the speaker is feeling? Do you get a sense of the tone of communication even if you can't hear every word?
After listening in on a conversation, write a page of pure dialogue.
One of the ways in which Laurie and Torrey and others represent dialogue on the page is to trim it down to its essence. Look at what you've written and see how you can tighten it. How many words could stand to be cut?
Read the dialogue aloud. Does it sound natural? Does it flow? Are there bits that sound stilted or artificial? How can you rewrite them to seem more realistic, but without going off on tangents the way we often do when we chat with friends?
Two important things to remember: First, dialogue on the page is not a verbatim reproduction of the way we speak. It's a severely curtailed and direct version of speech that is imbued with the feel of the spoken word. Second,  always use a light touch. Never overload it with words – especially not with words that you think are indicative of a specific community that you don't identify with. Never use unusual spelling to reflect an accent. Educate yourself to avoid treading into territory that could be stereotyping or harmful when you portray a character's speech. In Torrey's case, he is writing with respect and love about a community he belongs to, and with gentle touches, he captures the music of Trev's speech.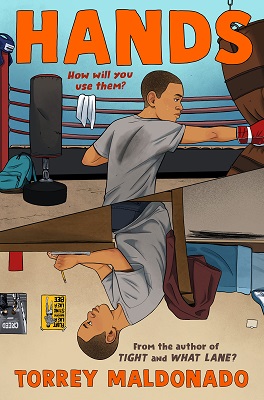 Recipe from Chef Amanda: Classic Macaroni and Cheese
Ingredients
1 lb. dried elbow pasta
1/2 cup unsalted butter
8 ounces of cream cheese
1 1/2 cups whole milk
2 1/2 cups half and half
4 cups shredded sharp cheddar cheese (measured after shredding) save some to sprinkle on top
2 cups shredded Gruyere cheese or cheese of your choice (measured after shredding) save some to sprinkle on top
Directions
Preheat oven to 325 degrees F .
Melt butter in a heavy bottom sauce pan. Add cream cheese, and stir until melted. Pour in milk and half-and-half and stir to combine ingredients in the pot. Let milk get nice and hot, but not boiling. Slowly add in cheeses and whisk to combine and create a smooth creamy cheese sauce.
Cook pasta according to package directions in boiling salted water. When pasta is al dente, drain the pasta and put in a large buttered baking dish.
Pour the cheese sauce over pasta and mix to evenly coat all the pasta. Sprinkle remaining cheese on top.
Bake in a 325 degree oven for 20-25 minutes until cheese is golden brown and bubbly.
About the authors–and the chef!
Torrey Maldonado: Praised by two NYC Chancellors for being a top culturally responsive educator who has taught for nearly 25 years,  Torrey writes fast-paced, compelling stories inspired by his experiences born and raised in Brooklyn, NY and his students' experiences; his books have garnered many starred reviews and wins spots on "Best Books of the Year" lists.
Padma Venkatraman is the award-winning author of five novels for young people: Climbing the Stairs, Island's End, A Time to Dance, The Bridge Home, and most recently, Born Behind Bars (a companion novel to The Bridge Home). Born Behind Bars is a Parents Magazine Book of the Month book club pick and Junior Library Guild selection. It was released to starred reviews last fall, and is on Kirkus, SLJ, and other best book of the year lists. The New York Times Book Review described Venkatraman's writing as a "confidently stripped down, crystalline style…Borrowing elements of fable" and the Providence Journal called Born Behind Bars a "tale of hardship and hope, capable of making a grown person cry." in addition to her novels, Padma's poetry has been published in literary journals such as Mobius, Snowy Egret, Parnassus, The Delhi London Poetry Quarterly and most notably Poetry magazine; and she is the founder of Diverse Verse. Follow Padma on twitter (@padmatv), visit her website www.padmavenkatraman.com, or meet her on ig/fb (@venkatraman.padma).
Amanda Richards is the executive chef at the Highlights Foundation. Although her scholastic background is i elementary education, she has always had a love of cooking and apprenticed under chef Marcia Dunsmore here at the Retreat Center. She's a Food Network devotee and grew up watching Julia Child.