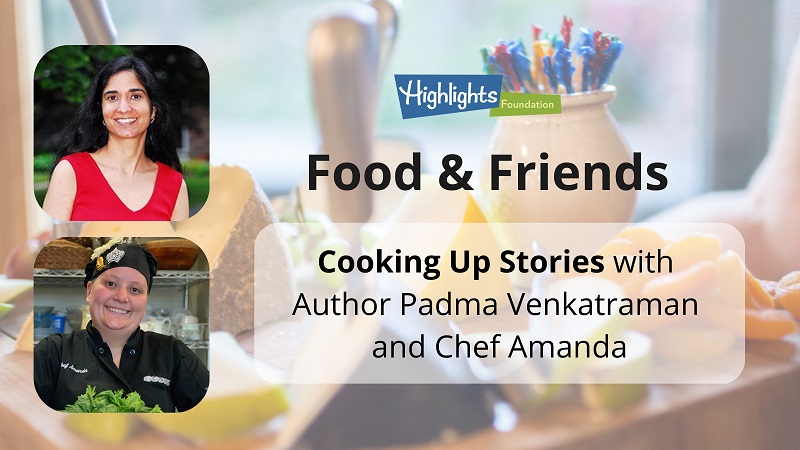 Every month, our Chef Amanda and author Padma Venkatraman pair up to share a recipe and writing prompt for our Highlights Foundation family. Padma creates the prompts based on a book from one of our Highlights Foundation faculty, and Chef Amanda shares a recipe from the kitchen at the Barn. (Please note: Chef Amanda has this month off and so we'll discover another recipe with her next month. You can always look at past prompts and recipes here.)
September 2023
MASCOT, written by Charles Waters and Traci Sorell
Through conversational verse, MASCOT tells the stories of six young people asking, "What happens when a mascot is seen as racist, but not by everyone?"
Traci Sorell and Charles Waters wove a cast of characters who readers follow through the challenges in their school and community, illuminating the nuances of what happens when some people feel their traditions are threatened when some people stand up about human rights and Native sovereignty. The result is an authentic story filled with the hearts and minds of middle graders—Callie, Franklin, Priya, Sean, Tessa, Luis. (With Ms. Williams making a guest appearance!)
This book found its way to my heart for many reasons. First, it is set in Rye, Virginia. Virginia was my first home in the United States. When I lived there, I witnessed many impassioned debates over mascots and names of teams. This shocked me because I thought the names and mascots were derogatory (although there were others who insisted they should never be changed).
Also in my heart is the respect for the way that Waters and Sorell structured the novel. Told from multiple points of view— each of the six main characters is brought to life in a way that feels real and relatable. This structure allows for the complexity of making change—inside and out. We need to understand the importance of the topic, and the voices of the book allow this to happen.
Finally, the last page brought tears to my eyes, along with marvelous memories of the time when I was part of the faculty, along with Kathy Erskine and Alma Fullerton at a wonderful novel in verse workshop, where I met the two brilliant authors of this book.
Read On.
Here is an excerpt from the book. (This is from the perspective of Priya. The character that I love the most, not only because she shares my heritage, because she succinctly sums up the debate that fuels the novel.)
Priya
Racism.
This pep rally—
filled with chants and gestures that
show no honor for Native people—
is just racism.
Another excerpt from Callie, a Black Cherokee Nation citizen who has just moved to Rye and to this new school. (This is not the full poem, but an excerpt of her voice. The most prominent voice in the book.)
CALLIE
Tigers.
My school's mascot back home.
Fierce.
Nobody harassed.
Strong.
No offensive signs or chants.
Here it's a whole other world.
As you can imagine, not all perspectives in the book align like Callie and Priya, and even some of those who do align need to learn how to navigate offering their support without suppressing the voices that center the issue.
Writing Prompt
Have you ever taken sides on a debate over mascots, the name of a team, or other traditions? What are the strong (and/or mixed) feelings you have about this debate?
Imagine two or more characters who might be on different sides of this issue that you care about. Remember that "different sides" might not mean opposites.
Decide who your characters are, what they believe about this issue, and, importantly, why they believe this.
Write a short exchange of pure dialogue that shows the difference in their points of view. Some questions that might help shape the scene:
Is there a "winner" and a "loser" (or somewhere in the middle)?
Do they leave this scene as friends, or in greater disagreement?
Is it possible that they are both just as recalcitrant after the conversation/argument as before?
Are they polite to one another or rude?
Is one more willing to give in than the other?
How does your word choice show the character views?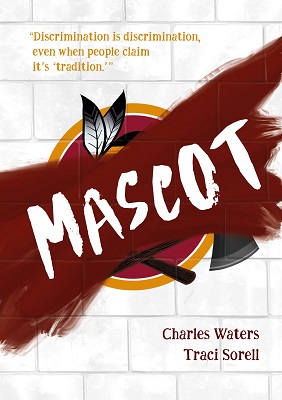 About the authors–and the chef!
Charles Waters is a children's poet, author, educator and actor. It was when performing with the theater touring company, Poetry Alive!, that he first experienced the power of poetry. Charles is the co-author (with Irene Latham) of various books including CAN I TOUCH YOUR HAIR? Poems of Race, Mistakes and Friendship, DICTIONARY FOR A BETTER WORLD: Poems, Quote and Anecdotes from A to Z, AFRICAN TOWN, and BE A BRIDGE. He has multiple upcoming titles in the next few years.
Traci Sorell: Best-selling author and Cherokee Nation citizen Traci Sorell writes inclusive, award-winning fiction and nonfiction in a variety of formats for young people. Traci is a two-time Sibert Medal and Orbis Pictus honoree for her nonfiction work. Her first five books have received awards from the American Indian Library Association. A Highlights Scholarship is directly responsible for the creation of two of her books – Powwow Day, a fiction picture book illustrated by Madelyn Goodnight, and Mascot, a middle grade fiction novel-in-verse co-authored with Charles Waters. Learn more about her work at tracisorell.com or @tracisorell on Instagram.
Padma Venkatraman is the award-winning author of five novels for young people: Climbing the Stairs, Island's End, A Time to Dance, The Bridge Home, and most recently, Born Behind Bars (a companion novel to The Bridge Home). Born Behind Bars is a Parents Magazine Book of the Month book club pick and Junior Library Guild selection. It was released to starred reviews last fall, and is on Kirkus, SLJ, and other best book of the year lists. The New York Times Book Review described Venkatraman's writing as a "confidently stripped down, crystalline style…Borrowing elements of fable" and the Providence Journal called Born Behind Bars a "tale of hardship and hope, capable of making a grown person cry." in addition to her novels, Padma's poetry has been published in literary journals such as Mobius, Snowy Egret, Parnassus, The Delhi London Poetry Quarterly and most notably Poetry magazine; and she is the founder of Diverse Verse. Follow Padma on twitter (@padmatv), visit her website www.padmavenkatraman.com, or meet her on ig/fb (@venkatraman.padma).
Amanda Richards is the executive chef at the Highlights Foundation. Although her scholastic background is i elementary education, she has always had a love of cooking and apprenticed under chef Marcia Dunsmore here at the Retreat Center. She's a Food Network devotee and grew up watching Julia Child.