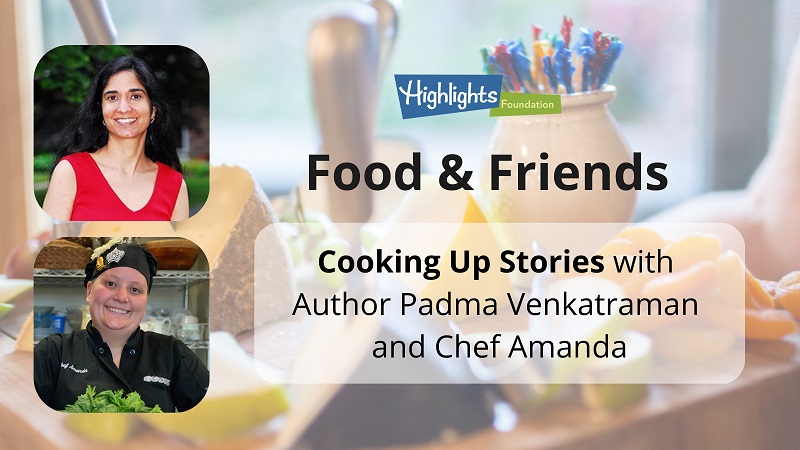 Every month, our Chef Amanda and author Padma Venkatraman pair up to share a recipe and writing prompt for our Highlights Foundation family. Padma creates the prompts based on a book from one of our Highlights Foundation faculty, and Chef Amanda shares a recipe from the kitchen at the Barn.
April 2023
Moonwalking by Zetta Elliott and Lyn Miller-Lachmann
Moonwalking is a beautiful collaborative effort between Zetta Elliott and Lyn Miller-Lachmann. Set in the 1980's, it explores an interracial friendship between two boys who share a love for art: JJ Pankowski, a punk-rock-loving newcomer to Brooklyn, whose father has lost his job, and Pierre Velez (Pie) a brilliant boy with a single mom and Puerto-Rican roots who dreams of being an artist like Jean-Michel Basquiat. When JJ joins his school, Pie feels sorry for him and reaches out, and their unlikely friendship begins.
Soon, their friendship is tested by JJ's prejudiced father, a racist teacher, and worst of all: a run-in with the police. Will their shared respect for creativity be enough to overcome all that threatens to tear their friendship apart? Told in verse, and alternating between the two boys' viewpoints, this starkly realistic story, which was released to multiple starred reviews, doesn't shy away from difficult truths, as it marches toward a moving ending.
Writing Prompt from Padma:
From the book:
She tells me
art shines light in the darkness
art gives voice
             to what we can't say in words
art brings us together
             No matter who we are.
Do you consider yourself a creator of art? Write a few lines (or a poem) about what art means to you. How does your view of art shape your writing life? For example, does the process of verbalizing your feelings for art help clarify what your next project might be, or how you might approach your next work, or even how you might divide your time amongst all the demands made on it?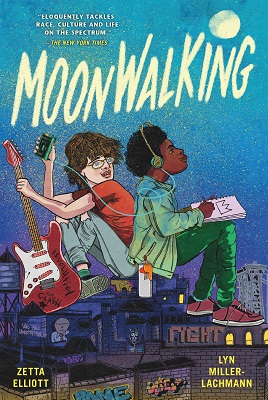 Recipe from Chef Amanda: Chocolate Chip Cookies
Ingredients
1 cup butter, softened
3/4 cup sugar
3/4 cup brown sugar, packed
2 eggs, large
2 teaspoons vanilla
2 1/4 cups flour, unsifted

1 teaspoon baking soda

1/2 teaspoon salt
2 cups of chocolate chips
Directions
Heat oven to 375ºF.Stir flour with baking soda and salt; set aside.
In large mixing bowl, beat butter with sugar, and brown sugar at medium speed until creamy and lightened in color.
Add eggs and vanilla, one at a time. Mix on low speed until incorporated.
Gradually blend dry mixture into creamed mixture. Stir in chocolate chips.
Drop by tablespoon onto ungreased cookie sheets.
Bake for 9 to 11 minutes or until chocolate chip cookies are golden brown.
About the authors–and the chef!
Lyn Miller-Lachmann is the author of the YA historical novel Torch (Carolrhoda Lab, 2022) and co-author (with Zetta Elliott) of the middle grade verse novel Moonwalking (FSG, 2022), both of which are Junior Library Guild Gold Standard Selections, recipients of multiple starred reviews and on the 2023 Notable Books for a Global Society list. Torch is also a Finalist for the Los Angeles Times Book Prize for YA Literature. Her recent nonfiction includes a biography of Temple Grandin in the She Persisted chapter book series from Philomel and Film Makers: 15 Groundbreaking Women Directors (co-authored with Tanisia "Tee" Moore) from Chicago Review Press. She also translates children's and YA books from Portuguese to English, with YA graphic novel Pardalita by Joana Estrela, due out in April 2023 from Levine Querido. Her debut picture book, Ways to Play, illustrated by Gabriel Alborozo will be published by Levine Querido in fall 2023, and her YA historical verse novel Eyes Open will be published by Carolrhoda Lab in 2024.
Zetta Elliott is a Black feminist writer of poetry, plays, essays, novels, and stories for children including Moonwalking, Benny Doesn't Like to Be Hugged, Dragons in a Bag and more. Moonwalking earned four starred reviews and was a Junior Library Guild Gold Standard Selection; it made the NYPL Best Books of 2022 list and was one of Kirkus Reviews' 100 Best Middle Grade Books.
Padma Venkatraman is the award-winning author of five novels for young people: Climbing the Stairs, Island's End, A Time to Dance, The Bridge Home, and most recently, Born Behind Bars (a companion novel to The Bridge Home). Born Behind Bars is a Parents Magazine Book of the Month book club pick and Junior Library Guild selection. It was released to starred reviews last fall, and is on Kirkus, SLJ, and other best book of the year lists. The New York Times Book Review described Venkatraman's writing as a "confidently stripped down, crystalline style…Borrowing elements of fable" and the Providence Journal called Born Behind Bars a "tale of hardship and hope, capable of making a grown person cry." in addition to her novels, Padma's poetry has been published in literary journals such as Mobius, Snowy Egret, Parnassus, The Delhi London Poetry Quarterly and most notably Poetry magazine; and she is the founder of Diverse Verse. Follow Padma on twitter (@padmatv), visit her website www.padmavenkatraman.com, or meet her on ig/fb (@venkatraman.padma).
Amanda Richards is the executive chef at the Highlights Foundation. Although her scholastic background is i elementary education, she has always had a love of cooking and apprenticed under chef Marcia Dunsmore here at the Retreat Center. She's a Food Network devotee and grew up watching Julia Child.