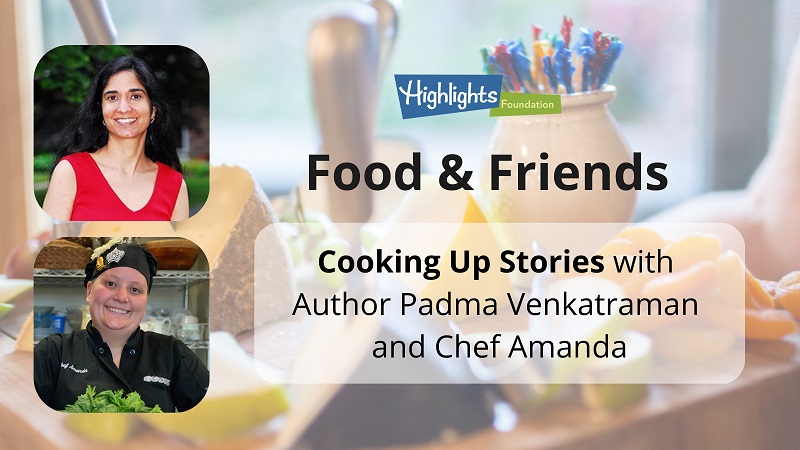 Every month, our Chef Amanda and author Padma Venkatraman pair up to share a recipe and writing prompt for our Highlights Foundation family. Padma creates the prompts based on a book from one of our Highlights Foundation faculty, and Chef Amanda shares a recipe from the kitchen at the Barn. You can always look at past prompts and recipes here.)
December 2021
Book: Born Behind Bars, written by Padma Venkatraman.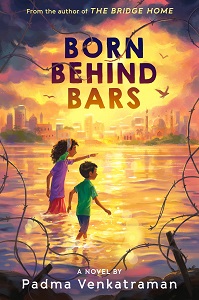 Padma Venkatraman's fifth novel, BORN BEHIND BARS, is the story of Kabir, a nine-year old boy who is sent away from the women's jail where he's lived all his life. He narrowly escapes being sold into enslavement. Rani, a homeless girl teaches him to survive on the streets of Chennai city.
What Kabir wants most desperately is to free his innocent mother from the women's jail. Rani doesn't believe he can help his mother – because she knows how hard it is for poor, low-caste kids like them to get by. When Kabir refuses to give up his dream, Rani accompanies him on a quest to find his long-lost father and grandparents, in the hope that they will help in Kabir's mission to seek justice.
Soon after Kabir is released – and after Rani has taken him under her (and her parrot's) wing, Kabir struggles to do things that may seem simple to those who have never been incarcerated. For example, when Rani asks him to choose what he wants from a roadside food stall, Kabir finds it impossible to make up his mind, because he's never before experienced the pleasure of ordering off a menu.
Kirkus calls BORN BEHIND BARS, "An optimistic and earnest tale of the power of hope and the gift of family in all forms."
An excerpt from Chapter 38: Tasting a Piece of Sky:
I read the menu. And re-read it.

"Well?" Rani says. "Can you read or can't you?"

"Yes, but – I've never had so many choices. Actually… I've never had any choices. In jail they just decided what we could eat. And wear. And even when we could go to the bathroom."

"Well, luckily you're not there anymore!"

"I don't even know what most of the choices are. You choose. You choose for me, Rani."

"Okay, but next time you'll decide. Please, sir," Rani calls loudly. "May we have some soan papdi?"

The old man doesn't seem to mind that we woke him up.

The two of them bargain. Rani finally agrees on a price, and the man fills a plastic bag with something flaky and yellow. She gives me a piece to taste.

"Mmm…" It tastes like a cloud that has floated down to earth, airy and sweet, melting on my tongue. "This is even better than laddus."
Writing Prompt
Think about a time when you – or your character – visited a restaurant (anything from street food to an informal cafe or diner, to a stately sit-down dinner). Write answers to these questions:
Did you / your character feel at home in this setting?
How noisy or quiet was it?
What time of day or night?
How many others were present?
Did delicious smells float on the air – and if so, what were they?
Was it easy to choose what to eat?
What were the options?
What did the menu look like – was it scribbled on a blackboard with chalk or was it a little book with pages and pages?
Use the details from your responses to create a scene. Then, try Chef Amanda's recipe–and, maybe consider giving a gift of food to those less fortunate, if you are able to.
Recipe from Chef Amanda: Warm French Lentils
2 tablespoons plus 1/4 cup good olive oil
1 leek, white and light green parts, sliced 1/4-inch thick
2 carrots, scrubbed and 1/2-inch diced
1 teaspoon minced garlic
1 cup French green Le Puy lentils
1 whole onion, peeled and stuck with 6 whole cloves
1 white turnip, cut in half
1 teaspoon unsalted butter
4 teaspoons Dijon mustard
2 tablespoons red wine vinegar
1 tablespoon kosher salt
1 teaspoon freshly ground black pepper
Heat the 2 tablespoons of olive oil in a medium saute pan, add the leek and carrots, and cook over medium heat for 5 minutes. Add the garlic and cook for 1 more minute and set aside.
Meanwhile, place the lentils, 4 cups of water, the onion with the cloves, and the turnip in a large saucepan and bring to a boil. Lower the heat and simmer uncovered for 20 minutes, or until the lentils are almost tender. Remove and discard the onion and turnip and drain the lentils. Place them in a medium bowl with the leek and carrots, and add the butter.
Meanwhile, whisk together the 1/4 cup of olive oil, the mustard, vinegar, salt, and pepper. Add to the lentils, stir well, and allow the lentils to cool until just warm, about 15 minutes. Sprinkle with salt and pepper and serve. The longer the lentils sit, the more salt and pepper you'll want to add.
---
Padma Venkatraman is the award-winning author of five novels for young people: Climbing the Stairs, Island's End, A Time to Dance, The Bridge Home, and most recently, Born Behind Bars (a companion novel to The Bridge Home). Born Behind Bars is a Parents Magazine Book of the Month book club pick and Junior Library Guild selection. It was released to starred reviews this fall, and is on Kirkus, SLJ, and other best book of the year lists. The New York Times Book Review described Venkatraman's writing as a "confidently stripped down, crystalline style…Borrowing elements of fable" and the Providence Journal called Born Behind Bars a "tale of hardship and hope, capable of making a grown person cry." Follow Padma on twitter (@padmatv), visit her website www.padmavenkatraman.com, or meet her on ig/fb (@venkatraman.padma).
Amanda Richards is the executive chef at the Highlights Foundation. Although her scholastic background is in elementary education, she has always had a love of cooking and apprenticed under chef Marcia Dunsmore here at the Retreat Center. She's a Food Network devotee and grew up watching Julia Child and others on PB