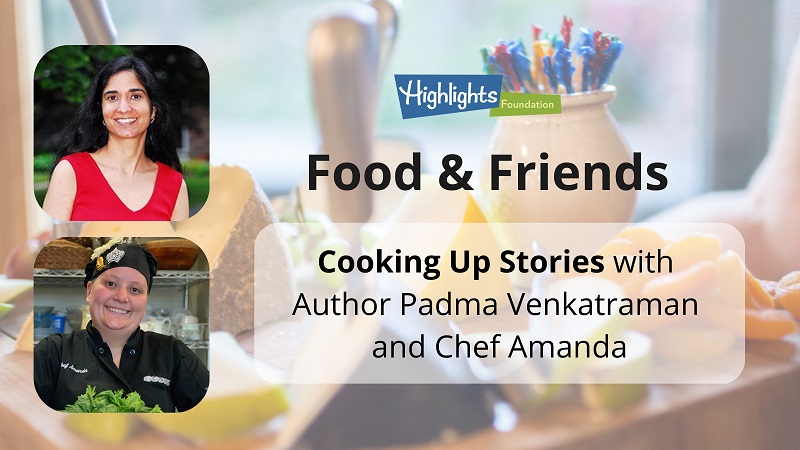 We love it when Chef Amanda and author Padma Venkatraman pair up to share a recipe and writing prompt for our Highlights Foundation family! Padma creates the prompts based on a book from one of our Highlights Foundation faculty, and Chef Amanda shares a recipe from the kitchen at the Barn.
LITTLE ELLIOT, BIG FUN, written and illustrated by Mike Curato
Little Elliot loves fun, and in this installment of the five-book collection, BIG FUN is everywhere. The fun-loving polka-dotted elephant and Mouse head to an amusement park with fun in mind, but Little Elliot ends up finding it all to be a bit too BIG, until Mouse helps him discover how to make fun feel just right for elephants, mice, and more!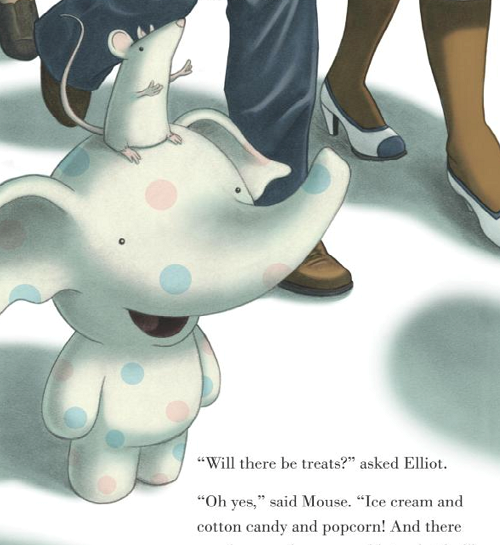 Little Elliot loves special treats. As does the book's creator, Mike Curato. Along with his popular Little Elliot series, Mike is the illustrator of many books for children. When asked if he loves cupcakes as much as Little Elliot, Mike says, "Oh, I DO!"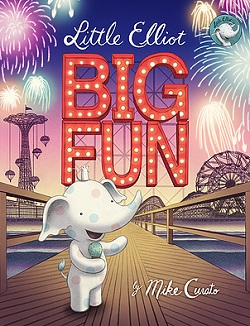 Writing Prompt
This month's recipe is inspired by Curato's love of cupcakes, but my writing prompt is inspired by this picture book which is about friendship but also about fear.
One of the most important things we need to discover about our protagonists is what they deeply fear, and why – because often, protagonists need to face (and overcome) this fear in order to grow and change. Even if the plot isn't about fear, it's important to understand your protagonist's innermost anxieties (even horrors), if you want to create a three-dimensional character. So:
1. First write a list of all the things your protagonist fears.
2. Second, look at your list and decide what your protagonist fears the most (or maybe there are two equally large fears).
3. Why does your protagonist fear these things? Dig deep to discover what happened to instill these fears in your protagonist.
4. Finally, brainstorm situations in which your protagonist's fears could be tested and decide how your protagonist would react in each situation. These situations may or may not lead to full-fledged scenes in your book – but they will help you gain a deeper understanding of character.
Recipe: Boyds Mills Best Vanilla Cupcakes
Ingredients:
2 sticks (1 cup) unsalted butter, at room temperature
1 cup sugar
3 large eggs
2 cups all-purpose flour
1 tsp. baking soda
2 tsps. baking powder
1 tsp. salt
1 cup sour cream
2 tbl. pure vanilla extract
Directions:
Preheat the oven to 350. Line cupcake pans with wrappers. Batter should make 20 standard cupcakes filling each about 2/3 full.
Cream the butter and sugar together until light and fluffy. Add the eggs, one at a time, blending well after each addition. Mix the flour, baking soda, baking powder, and salt together, and add this to the butter mixture, mixing well. Add the sour cream and mix well; then mix in the vanilla. (The batter will be thick.)
After filing each cupcake wrapper about 2/3 of the way full bake for 15-20 minutes or until just golden brown and a toothpick inserted comes out clean.
Allow to cool fully and frost with your favorite frosting and enjoy.
About the authors — and the chef!
Mike Curato loves drawing and writing almost as much as he loves cupcakes and ice cream (and that's a LOT!). He is the author and illustrator of everyone's favorite polka-dotted elephant, Little Elliot. His debut title, Little Elliot, Big City, released in 2014 to critical acclaim, has won several awards, and has been translated into over ten languages. There are now five books in the Little Elliot series, including Little Elliot, Big Family; Little Elliot, Big Fun; Little Elliot, Fall Friends; and Merry Christmas, Little Elliot. Meanwhile, Mike had the pleasure of illustrating What If… by Samantha Berger, All the Way to Havana by Margarita Engle, Worm Loves Worm by J.J. Austrian, The Power of One written by Trudy Ludwig, and contributed to What's Your Favorite Color? by Eric Carle and Friends, Sunny Day: A Celebration of the Sesame Street Theme Song, and Dear Heartbreak: YA Authors and Teens on the Dark Side of Love. Publishers Weekly named Mike a "Fall 2014 Flying Start." In the same year he won the Society of Illustrators Original Art Show Founder's Award. Mike's debut young adult graphic novel, Flamer, was awarded the 2020 Lambda Literary Award for LGBTQ Young Adult and the 2021 Massachusetts Book Award for Middle Grade/Young Adult.
Padma Venkatraman is the author of THE BRIDGE HOME which was released this February, has since garnered 8 stars, and has been honored as one of the best books of 2019 by Kirkus, NYPL, Chicago Library and others. Visit her at www.padmavenkatraman.com or follow her on twitter @padmatv or ig venkatraman.padma.
Amanda Richards is the executive chef at the Highlights Foundation. Although her scholastic background is in elementary education, she has always had a love of cooking and apprenticed under chef Marcia Dunsmore here at our Retreat Center. She's also a Food Network devotee and grew up watching Julia Child and others on PBS.