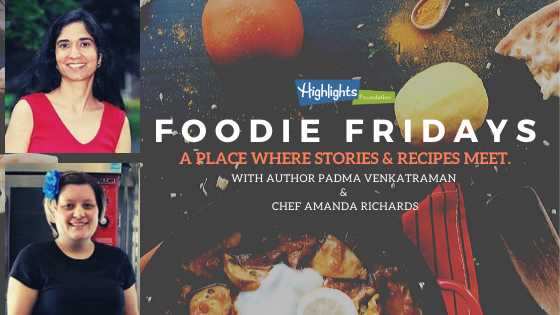 Each month our chef, Amanda Richards, and author/faculty member Padma Venkatraman will share a recipe and a writing prompt for our Highlights Foundation family. Padma will create the writing prompts based on a book from one of the Highlights Foundation faculty. Amanda will share a recipe from the kitchen at the Barn.
Foodie Friday, November 1, 2019
Book: THE BRIDGE HOME by Padma Venkatraman
THE BRIDGE HOME released in 2019 by Nancy Paulsen Books (Penguin Random House) and received 5 starred reviews. It has been described as "gorgeous storytelling" by the New York Times and is a 2019 Global Read Aloud, and 2019 Washington Post Summer Book Club Selection; in addition, the audiobook, read by the author and also released to starred reviews, is an Audiophile Earphone Award winner and Junior Library Guild selection.
In THE BRIDGE HOME four homeless children discover the power of found family. It is a story about sisterhood and friendship, about cruelty and compassion, about courage and grief, and how we strive to find the strength to discover moments of kindness and laughter even in bleak and terrifying circumstance.
"I took the orange and turned it around, just as you had. It glowed like a small, pale sun.
I felt its weight, its perfect ripeness–not too soft, not too firm. I breathed in its citrus scent. I started to peel it, noticing things I'd never noticed before: how the leathery peel isn't colored the same all the way through, how the papery sections inside feel like leafy veins, how the pulp is shaped like raindrops."
—THE BRIDGE HOME, by Padma Venkatraman
This month's writing prompt is inspired by the quote above, taken from THE BRIDGE HOME, which is an example of descriptive writing that incorporates sensory detail.
Writing Prompt:
What's your favorite fruit? Describe it, paying as much attention as you can to every sensory detail. You may wish to incorporate the five senses, more than taste, if you are able. Also, if you can, get a sample of fruit and observe it as thoroughly as possible. Slow down the process of eating it by eating it as mindfully and meditatively as possible.
Padma Venkatraman is the author of THE BRIDGE HOME, A TIME TO DANCE, ISLAND'S END and CLIMBING THE STAIRS, which have received a total of 20 starred reviews altogether. Visit her at www.padmavenkatraman.com or follow her on twitter @padmatv or ig venkatraman.padma.
Recipe: Citrus Quinoa Salad
Recipe courtesy of Joe Barbiere.
1 cup of uncooked quinoa
2 cups of orange juice
1/4 cup each dried cranberries, chopped dried apricots, golden or dark raisins. You can use any combination of dried fruits you have on hand.
One small can of drained mandarin oranges, you could also use fresh. (You may want more depending on desired amount in the salad)
1/2 cup of chopped nuts such as pecans, almonds or walnuts (optional)
Dressing:
1/4 cup of rice wine vinegar
1/2 cup of honey
Directions:
Cook quinoa in orange juice on medium low heat until completely absorbed. Be careful not to cook at too high of a heat, or it will burn.
Cool for about 20 minutes. Add the dried fruit, nuts, and drained or fresh mandarins.
Whisk together the rice wine vinegar and honey to make a dressing and pour over the salad. Mix to combine and coat all of the salad with dressing. Put in desired serving dish and refrigerate till cold. May also be served at room temperature.
Amanda Richards is the executive chef at the Highlights Foundation. Although her scholastic background is in elementary education, she has always had a love of cooking and apprenticed under chef Marcia Dunsmore here at our Retreat Center. She's also a Food Network devotee and grew up watching Julia Child and others on PBS.
Find FOODIE FRIDAYS on our blog the first Friday of every month. Please share your successes with the FOODIE FRIDAY recipe and prompt by tagging @HighlightsFound #FoodieFridays.