Write what you want to explore.
We writers hear this advice again and again: Write what you know. Or we may hear it flipped over and reversed: Write what you don't know. Write what fascinates you. Write what you'd like to know more about. Write what you want to explore.
What I find especially fruitful—hey, it's given me three novels already!—is to write what terrifies me down to the core. When I'm writing what scares me, I find I'm digging in deeper into my stories, my characters. I'm challenging myself to put something raw and pulsing with possibility on the page.
That's why the dead have been known to come back to life in my novels. That's why my characters often don't know who or what they can trust…even and especially their own minds.
I often know I'm on to something truly worth pursuing when I reach that day when I'm afraid to sit down at my desk or café table and write a scene. When I'm scared to let go and go there, that means I should. That means I must! That means the book will be so much better for it if I face my fears and write through them.
At the Books with Bite workshops, my co-instructor Micol Ostow and I push you to write what scares you, to get those fears down on the page in all their terrifying, disturbing glory.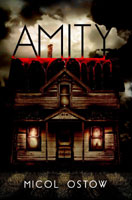 (Full disclosure and little tidbit about my fellow faculty member, Micol Ostow. She knows more about horror movies than anyone I know. And she also wrote the YA horror novel Amity, which I highly recommend, and which, I will admit, gave me a full-on bone-chilling nightmare that still, to this day, sends a hard shiver up and down my spine when I think about it. Micol certainly knows how to write scary!)
Our workshop is for writers of YA or middle-grade who want to explorer some deeper, darker waters. You could be writing a thriller or a mystery, a ghost story or a horror novel, dark magical realism or urban fantasy or gritty contemporary realistic or, really anything twisted. The label doesn't matter. All that matters is that you come to our workshop ready to explore and face your fears.
What would you write if you decided to write what most frightened you?
That may not be a creature of the night or an ax-wielding maniac. It may be something more subtle, more personal. Something deeper and much more connected to your most buried fears or your worst nightmares.
What would you write if you decided to push yourself harder than ever before? If you challenged yourself…even, and especially, if it scared you down to your core?
I know I can't wait to find out.
Find Nova online at novaren.com or follow her on Twitter at @novaren.