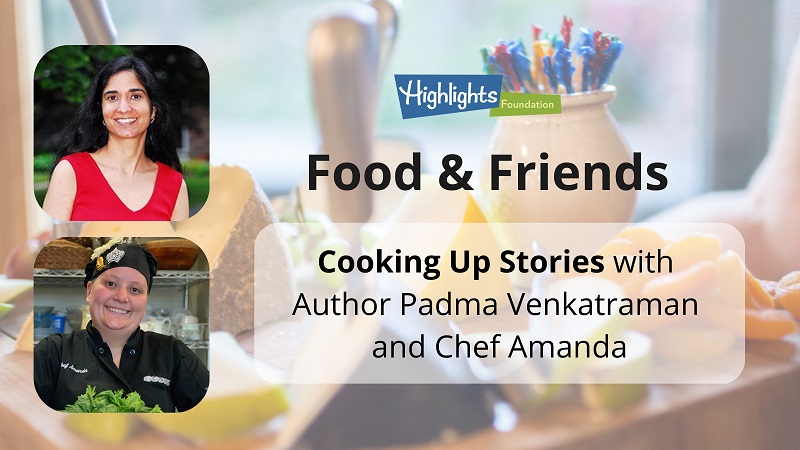 Every month, our Chef Amanda and author Padma Venkatraman pair up to share a recipe and writing prompt for our Highlights Foundation family. Padma creates the prompts based on a book from one of our Highlights Foundation faculty, and Chef Amanda shares a recipe from the kitchen at the Barn.
March 2023
Welcoming Elijah: A Passover Tale with a Tail, written by Lesléa Newman; illustrated by Susan Gal
Welcoming Elijah is an award-winning picture book. It is also an illustrated poem – as so many brilliant picture books are. In this holiday-centered story, we meet a boy and a cat. The cat is outside on a blustery night. The boy is inside, celebrating Passover with his family and friends. Newman builds up gentle tension as we wonder when the boy and the cat will meet, and what will happen when they do.
Writing Prompt from Padma:
Something special happens to the boy and the cat this Passover, which sets it apart from all the previous Passover celebrations the boy has experienced. Read this lyrical book and then think of a holiday that you and your friends/family celebrate. Did something happen one year that made this holiday stand out? Write a story or poem about that extra-special, most-memorable holiday. Perhaps you want to write this as your own story, bringing alive your feelings. Or, you might want to invent a character or two and write a piece based on, yet fictionalized of your own experience.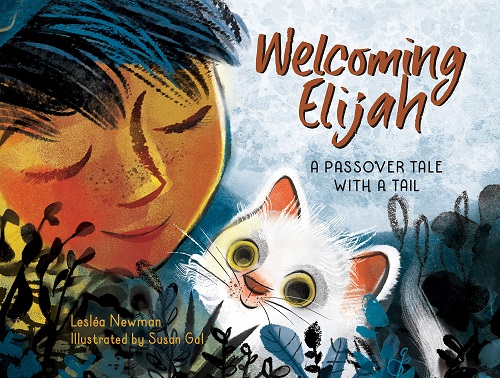 Recipe from Chef Amanda: Passover brisket
Ingredients
One 5 pound brisket
8 garlic cloves cut lengthwise into 4 pieces
Sea salt
1 quart plus 1 cup beef stock
2 Vidalia or sweet onions thinly sliced
1 cup ketchup
¼ cup brown sugar
1 teaspoon paprika
1 teaspoon smoked paprika
1/2 teaspoon dried thyme
1/2 teaspoon rosemary
2 bay leaves
1 packet of Lipton brand beefy onion soup mix
Directions
Preheat the oven to 500°F.
Place the brisket on a work surface. If the fat cap is on the thicker side (1/2 inch) trip off a little of the fat, leaving an even 1/4 -inch layer.
Using a paring knife, make vertical incisions in the meat and shove a piece of garlic into each. Do this until the meat is stuffed with garlic all over. Season both sides with salt and pepper and place the brisket in a large braiser, Dutch oven or rimmed baking dish (preferably metal) you will want to go light on the salt since you are using the beefy onion soup mix. starting with the fat cap facing up and brown it in the oven, about 10 minutes per side.
Remove the pan from the oven, and pour in the beef stock (NOTE: if you are using a pyrex dish, wait a few minutes for the pan to acclimate to room temperature so it does not shatter.). Turn the oven down to 350 degrees, cover the dish with a lid or foil, and cook in the oven for 1 hour.
In the meantime, heat 1 tablespoon of olive oil over medium-low heat in a large skillet. Add the onions and sauté, stirring every once in a while, until soft and caramelized, about 30 minutes.
Remove the meat from the oven, and add the ketchup, sugar, paprika, smoked paprika, cayenne, thyme or rosemary, and bay leaves to the pan. Using a fork, whisk everything together with the beef stock. Arrange the caramelized onions on top of the meat. Cover the pan again with the lid or foil, and return it to the oven for 2-3 hours. NOTE: if you want to be able to cut the brisket into slices, take it out at 2 hours. If you want it to be falling apart, more along the lines of a pulled brisket, keep it in for the full 3 hours.
Remove the meat from the oven, and transfer it to a cutting board. Slice the brisket against the grain into slices. Return the meat to the sauce and serve, or store in the fridge overnight-the brisket can be made a day or two in advance.
About the authors–and the chef!
Lesléa Newman is the author of 75 books for readers of all ages including the children's classic, Heather Has Two Mommies, the middle-grade novel Hachiko Waits, the teen novel-in-verse, October Mourning: A Song for Matthew Shepard, and the picture books Sparkle Boy, Gittel's Journey: An Ellis Island Story, and Ketzel, the Cat Who Composed. Find out more at www.lesleakids.com and www.lesleanewman.com.
Padma Venkatraman is the award-winning author of five novels for young people: Climbing the Stairs, Island's End, A Time to Dance, The Bridge Home, and most recently, Born Behind Bars (a companion novel to The Bridge Home). Born Behind Bars is a Parents Magazine Book of the Month book club pick and Junior Library Guild selection. It was released to starred reviews last fall, and is on Kirkus, SLJ, and other best book of the year lists. The New York Times Book Review described Venkatraman's writing as a "confidently stripped down, crystalline style…Borrowing elements of fable" and the Providence Journal called Born Behind Bars a "tale of hardship and hope, capable of making a grown person cry." in addition to her novels, Padma's poetry has been published in literary journals such as Mobius, Snowy Egret, Parnassus, The Delhi London Poetry Quarterly and most notably Poetry magazine; and she is the founder of Diverse Verse. Follow Padma on twitter (@padmatv), visit her website www.padmavenkatraman.com, or meet her on ig/fb (@venkatraman.padma).
Amanda Richards is the executive chef at the Highlights Foundation. Although her scholastic background is i elementary education, she has always had a love of cooking and apprenticed under chef Marcia Dunsmore here at the Retreat Center. She's a Food Network devotee and grew up watching Julia Child.