We asked editor Emma D. Dryden, the leader of Filling the Writer's Toolbox: A Picture Book and Novel Retreat, to give us some quick revision tips: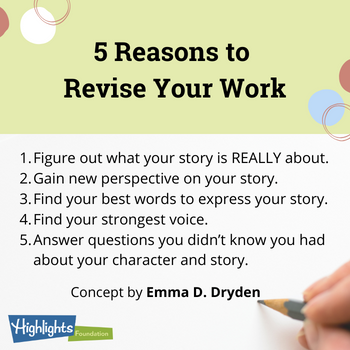 There's more about revision from Emma here:
Revision, Getting Unstuck, and Knowing When Work is Ready to Submit
Emma talks with Inked Voices about writers helping each other with revision, knowing when your draft is done and how to find freelance editors to work with.
"If an author's spinning her or his wheels with revisions, I will often suggest taking oneself away from the actual manuscript in order to do some new character interviews and writing exercises—these are methods of revision related to the work and tools to keep authors writing in fresh ways."
Literaticast: Ask an Editor, with Emma D. Dryden
On the podcast, Emma chats about owning your own business, the best time to hire an editor and when to share your work for critique.
"I think many newer writers just have no idea how much revision is required to produce a polished draft."
Cynsations: Emma Dryden on Putting the Internal Editor in a Time-Out
Emma talks about the challenges of being an author AND an editor.
"Most artists are not professional editors, but artists are always contending with some sort of internal editor—that nagging, probing questioner; that voice saying something isn't good enough; that self-doubter."
Miuss Marple's Musings: Interview with Emma Dryden
Emma talks about her business, her editorial approach, what makes a good editor, and more.
"A good editor knows how to ask the right sort of questions in a supportive way that not only is an author or illustrator inspired to try something new and move out of their comfort zone, but in such a way that an author or illustrator feels safe in doing so."