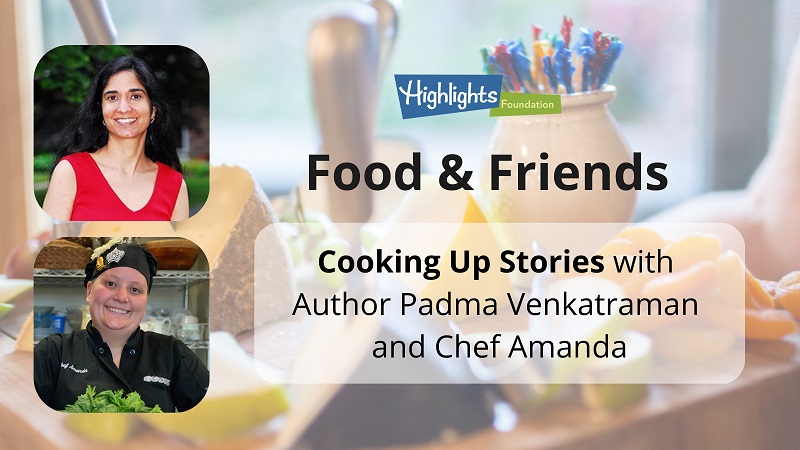 Every month, our Chef Amanda and author Padma Venkatraman pair up to share a recipe and writing prompt for our Highlights Foundation family. Padma creates the prompts based on a book from one of our Highlights Foundation faculty, and Chef Amanda shares a recipe from the kitchen at the Barn. You can always look at past prompts and recipes here.)
February 2020
Book: THE NIGHT DIARY, written by Veera Hiranandani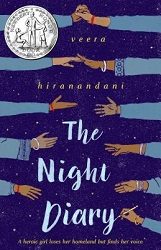 THE NIGHT DIARY follows the life of 12-year old Nisha who lives in India in 1947. When the country she calls home is divided in two–Pakistan and India–violence erupts and she and her family become refugees. In the hope of finding safety on the other side of the border, she and her family flee their home. The story is woven together through letters she writes in her diary.
In one entry Nisha writes to her mother, "I want to tell you about this diary I'm writing in. Kazi gave it to me this morning wrapped in brown paper, tied with a piece of dried grass. He never gives me gifts on my birthday. I once read an English story where a little girl got a big pink cake and presents wrapped in shiny paper and bows for her birthday. I thought about the little gifts Kazi gives us all the time–pieces of candy under our pillows or a ripe tomato from the garden, sliced, salted, and sprinkled with chili pepper on a plate. Cake and bows must be nice, but is anything better than a perfect tomato?"
Veera Hiranandani is the author of Newbery Honor book, THE NIGHT DIARY. Her debut book THE WHOLE STORY OF HALF A GIRL was named a Sydney Taylor Notable Book and a South Asia Book Award Finalist. She teaches creative writing at Sarah Lawrence College's Writing Institute. Visit her at veerahiranandani.com.
Writing Prompt by author Padma Venkatraman
This month's Foodie Friday recipe is inspired by The Night Diary's rich descriptions of food and family. Character Nisha writes in many of her diary entries about food the way she does above about the tomato as a perfect gift.
When it comes to your character, are there foods that he/she/they would think of as a pure gift? Would your character agree with Nisha's description of a tomato? Or is their idea of food, or gifts for that matter, far different?
Explore the questions above, then write a scene describing your character's birthday and what treats might be included (or they would wish would be included) in the celebration. Do the birthday traditions in your character's family reflect their culture in some way? What would happen if your character got exactly what he/she/they wanted? What would happen if they did not?
Recipe from Chef Amanda: Boyds Mills Tomato Basil Bisque
Ingredients:
2 TBS olive oil
5 large cloves garlic, about 2 TBS chopped
Salt and pepper to taste
3 28 ounce cans of diced or whole tomatoes
1 TBS of sugar
3 cups vegetable stock
3/4 cup fresh basil – chopped
2 cups heavy cream
One stick of butter
Directions:
Place olive oil and chopped garlic in a large stock pot and Sautee until it gets golden brown. Add the tomatoes, stock, salt & pepper, sugar, and basil. Cook over medium heat for 10 stirring occasionally. Slowly add the heavy cream while stirring gently. Next add 3/4 of the stick of butter and allow it to melt. Use an Imersion blender (also called a stick blender) to puree mixture until smooth. You can also pour small batches in the blender to combine as well. Just before serving add the final 1/4stick of butter to finish the soup. This pairs perfectly with a warm, toasty grilled cheese.
---
Amanda Richards is the executive chef at the Highlights Foundation. Although her scholastic background is in elementary education, she has always had a love of cooking and apprenticed under chef Marcia Dunsmore here at our Retreat Center. She's also a Food Network devotee and grew up watching Julia Child and others on PBS.
Padma Venkatraman is the author of THE BRIDGE HOME which has garnered 8 stars, and has been honored as one of the best books of 2019 by Kirkus, NYPL, Chicago Library and others. THE BRIDGE HOME is also the recipient of a Walter Award, through the We Need Diverse Books organization, and a Golden Kite Award from SCBWI. THE BRIDGE HOME was the global read aloud book for 2019. Visit her at www.padmavenkatraman.com or follow her on twitter @padmatv or ig venkat