To develop character, we must make a number of choices: name, gender, age, race, shape, and more. We dig deeper to discover family background, geography, relationships, and habits – all of which are choices, completely ours in fiction and, developmentally, in nonfiction or memoir.
There are lucky writers who say characters come to them fully formed. Jealousy aside, there are ways for the rest of us to develop strong relationships with our characters, too. Quick character interviews are helpful. Writing out backstory or origin stories, even if they never appear on the page, is helpful. Free-writing from your character's point of view can also help influence your story. Again, these short pieces may never make it into your book, but the knowledge infuses into you and thus, into your character.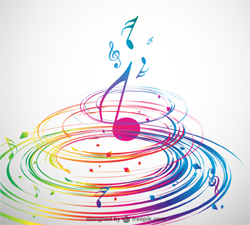 One device that is highly effective in understanding character is music. Music is nearly universal in its influence.
It's a bit too easy to just answer the question, "What kind of music does my character like?" More difficult might be, "What kind of music would my character turn off?" You might think of an entire type of music or, more likely, a specific song. Maybe a song that would break your character's heart in two at just the first beat.
Think about instances of revealing character traits using music as a way to show your reader more about how your character interacts with the world. Consider the following examples.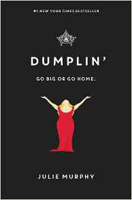 From Julie Murphy's Dumplin.
Julie uses music as connectivity. Music provides the origin story for an important friendship. Her music selection also leaps from the book world and into our own world because she uses The Dolly Parton. We are connected to her character. From page 26: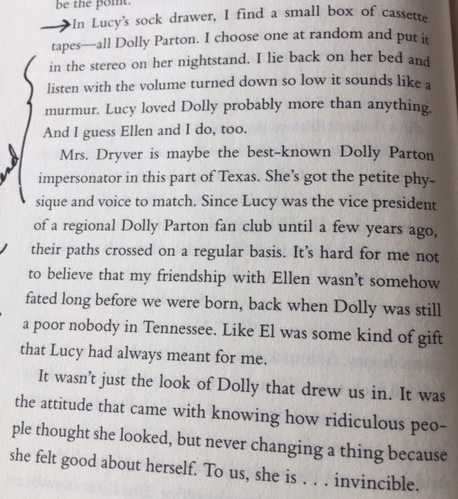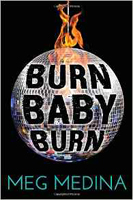 From Meg Medina's Burn Baby Burn.
Meg uses music to anchor us within her story. Music lends personality to her characters while setting us in time and place. From page 90: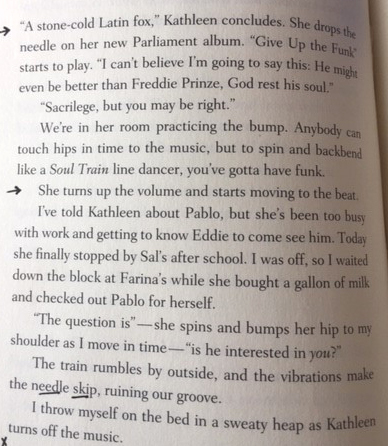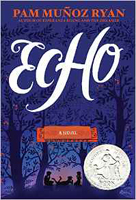 From Pam Muñoz Ryan's Echo.
Music is a character in this novel. (The audio version is a symphonic experience.) It is also the thread that ties together time, place, and experience. From page 347 (audio chapter 51):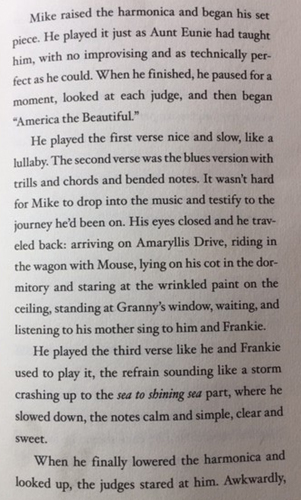 Music is explored in each example showing us just how responsive this device can be to character. In each case above, our knowledge of character is deepened by the interaction with music. How might this work in your own writing?
Try this exercise, using the first few words from Prince's iconic "Kiss":
"YOU DON'T HAVE TO BE BEAUTIFUL…"
Copy this line, including the quotation marks. Unless your character is Prince, I want you to write says, or sings, or said, and your character's name.
Imagine your character speaking these six words. To whom did they say them? Where are they talking? Are they singing at a bar? Or is your scene NOT connected to the reality of this song at all? You can imagine that your character is the first person to ever say these words to another.
Take time to free-write this scene, and see what happens next.
Go.