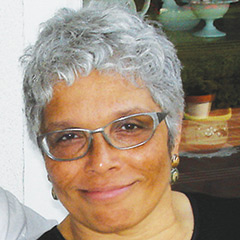 Pat Cummings
Special Guest
Pat Cummings is the author and/or illustrator of over 40 books for young readers. Along with teaching children's book classes at Pratt and Parsons, she holds a summer Children's Book Boot Camp that brings writers and illustrators together with top editors and art directors.
Pat serves on the boards of the Authors Guild, the Authors League Fund and The Society of Children's Book Writers and Illustrators (SCBWI) and is a member of The Writers Guild of America. She also serves as Chair of the Founders Award Jury for the Society of Illustrators' Original Art Show.
Her most recent picture book, Beauty and the Beast, set in Africa, was translated from the original French fairy tale and retold by her husband, H. Chuku Lee, a founding member of NABJA. Her debut middle grade novel, Trace, is being published by HarperCollins this spring.
She can be reached at www.patcummings.com or followed on Twitter @PatCummingsBook.