Last week, our friend Carolyn Flores posted a message on her Facebook page:
"I want to thank two people who have made a huge difference in my career this past year – Caldecott Honor Illustrator Denise Fleming and Coretta Scott King Award Winner Pat Cummings! Because of their support and encouragement, I strove to develop an illustration process using oil on raw cardboard that dried very quickly. My new book A Surprise for Teresita was done completely using this new technique!"
I've heard from many people like Carolyn who've attended Denise and Pat's Super Children's Book Boot Camp at the Foundation. The entire team (Denise, Pat, and their special guests) take the term "SUPER" seriously during the workshop. Super sessions. Super feedback. Super advice. Super stories.
With over 35 books to her credit, Pat's advice is golden. Her contributions to the field reach beyond the pages of her books, as she serves on the boards of The Authors Guild, The Authors League Fund, and The Society of Children's Book Writers and Illustrators. She is this year's Brooklyn Public Library's Artist in Residence and also teaches children's book illustration courses at both Parsons and Pratt.
For all of these reasons and so many more, we are thrilled that Pat found some time to sit down with us for this month's faculty interview.
Alison: Hi, Pat! Welcome to the blog. Have I ever mentioned how grateful we are for all of the hours you've given as a mentor? Thank you! Thank you! Thank you!
I wonder, did you have any writing/illustration mentors starting out in this field?
Pat: Hello, Alison! Great to be here. This is a pretty supportive field, and I've learned a lot from so many folks. I consider Tom Feelings as my mentor. He was the one who walked me through "How to Make a Book" when I got my first manuscript to illustrate. He was the one who turned me on to textbook work, which was an education in itself and a great way to stay afloat while working on books. He was the one who told me, way back when I wanted to find some way to thank him, "Just help someone else when they need it."
One really lovely aspect of this business is that most of the people in it are happy to help each other. The only real competition is with yourself; you have to keep trying to improve your work.
Alison: We're lucky enough to have you returning next summer for Super Children's Book Boot Camp to pass along some of that help Tom spoke of. What kinds of stories do you hope to see in this year's applications?
I like to be surprised. There are themes that are going to be welcomed by any publisher: the traditional arc of a character facing a challenge and, after several attempts, overcoming it. But what I find stands out for me and the faculty are stories that explore a familiar theme (sibling rivalry, first day of school, encountering new experiences) and give it a fresh twist or turn it on its head.
Well-written, engaging nonfiction is really appealing, too. Stories about little-known historical characters or little-known, kid-friendly aspects of a famous character's life are always interesting… and informative. Any story that is engaging, constructive, AND entertaining will stand out.
For illustrators, I know that distinctive, original styles always stand out. That ability to be visually narrative is key: Do your pictures tell a story? That's what tends to impress the faculty.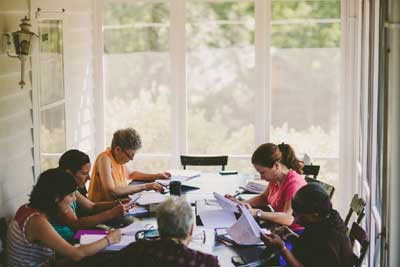 Alison: We had a nice conversation this past summer where we spoke about being kind and how important it is in this business. What other advice would you give to folks entering into the world of children's books?
Pat: That's good of you to note, Alison. Kindness is a trait that I really value. Most people in this business – editors, agents, art directors, writers, and illustrators – appreciate how difficult it can be to create a successful book. Lin Oliver and Stephen Mooser at SCBWI speak often about the sense of community in this business. And it's true. Just about every book has been improved with the help and encouragement of others. I love the feeling that we're all in this together, all trying to do our best work for the best possible audience imaginable: young readers.
In over 40 years in this business, I can count on one hand the "unkind" folks I've run into. Creators of books for children tend to be open-minded and open-handed…always offering encouragement and feedback in critique groups, workshops, even on social media sites.
Alison: It has been a pleasure, Pat. Thank you for joining us today!
Pat: Certainly! See you soon!
— Interview by Alison Green Myers