The Highlights Foundation Scholarship Program
Since the Highlights Foundation was founded in 1987, we've offered scholarships for writers and illustrators to attend our workshops.  It's a tenet of the work we do here.
While the program has grown and evolved, its focus on our mission has remained: to amplify the voices of storytellers who inform, educate, and inspire children to become their best selves.
"He said, 'Do something with it.' So I did…I was able to publish my first book in 2009. I have now written five books."

-Crystal Allen, Highlights Foundation Scholarship Recipient, Author, and now Highlights Foundation Faculty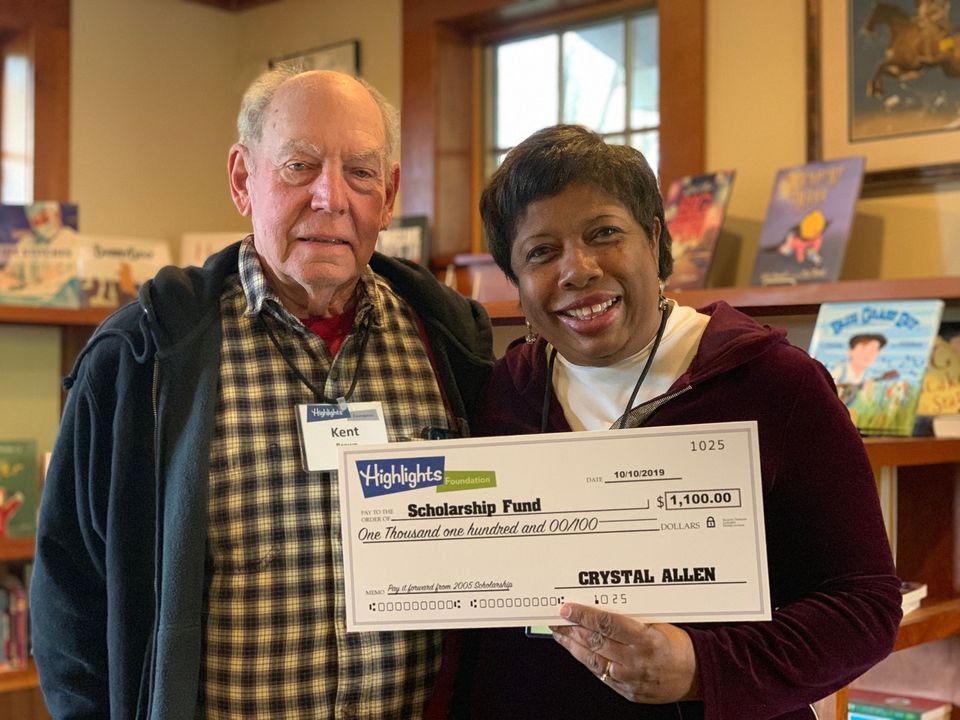 "Do Something With It"
When Crystal Allen received a scholarship and attended her first workshop with the Highlights Foundation, she tried to thank Kent (our founder) when she met him.  He appreciated the sentiment, but was more concerned with how she'd use her scholarship from the Foundation to inspire kids.  He asked her simply to "Do something with it."
And that she did.
Now she's the author of more than five books for children, and has taught on our faculty.  In 2019, she paid it forward with a donation to our scholarship fund.
How the Highlights Foundation Scholarship Program Works
The Highlights Foundation offers scholarships each year, including General and Special named Scholarships.
The general scholarship fund and special scholarships are supported by Highlights Foundation supporters who believe in the organization's mission: to positively impact children by amplifying the voices of storytellers who inform, educate, and inspire children to become their best selves.  Select named funds also support our general scholarships, honoring those who have had a significant impact on children's literature.
Several awards are also sponsored by organizations who have partnered with the Highlights Foundation to make scholarships available.
 The application period opens yearly, and awards are based on the following criteria:
seriousness of purpose, including time and effort devoted to craft,
talent displayed via a writing or art sample,
and financial need.
Scholarship Success Stories