Resources for the Diversity Fellowship in Children's Literature
We asked the 2019-20 Fellows: What's on your mind when you create for children? Watch what they had to say: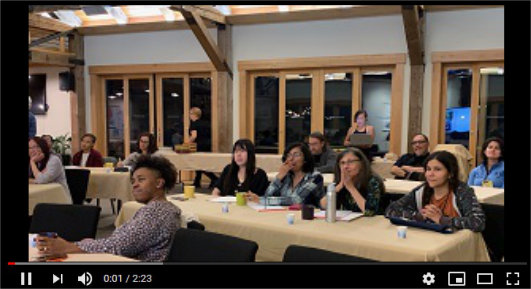 Listen to an "Into the Woods" podcast episode: Three Highlights Foundation Diversity Fellows Talk About Summer Camp Mentorship
---
Links of Interest
We Need Diverse Books, a grassroots organization of children's book lovers that advocates essential changes in the publishing industry to produce and promote literature that reflects and honors the lives of all young people.
The Brown Bookshelf is designed to push awareness of the myriad Black voices writing for young readers. Their flagship initiative is 28 Days Later, a month-long showcase of the best in Picture Books, Middle Grade, and Young Adult novels written and illustrated by Black creators.
The Children's Book Council Diversity Initiative advocates for an inclusive and representative children's publishing industry and highlights diverse creators, books, resources, and articles through its blog and monthly newsletter.
Society of Children's Book Writers and Illustrators provides grants to promote diversity.
The Windows and Mirrors of Your Child's Bookshelf, a TED talk by author Grace Lin.
Can A Children's Book Change the World?, a TED talk by author Linda Sue Park.
New Voices Award, given annually by Lee & Low Books for a children's picture book manuscript by a writer of color or Native/Indigenous writer.
American Indians in Children's Literature provides critical perspectives and analysis of indigenous peoples in children's and young adult books, the school curriculum, popular culture, and society.