Top 10 Questions about Self-Publishing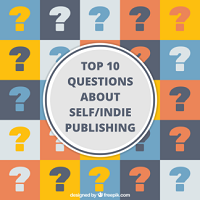 In advance of our upcoming workshop, Self or Indie Publishing: Answering the Big Questions, we wondered just what the "big questions" might be. Darcy Pattison, our fearless workshop leader, took a survey and discovered the things most people were curious about. She'll be answering ALL of these questions at the workshop!
Does self-publishing a children's book close doors to the traditional publishing world?
Is the self-published route really a respectable way for a first-time author to go?
How much does it cost and when do you start earning income?
How much work is involved and how much technical know-how do you need? For an idea about the workload, check out Darcy's post The 50 Tasks of an Indie/Self Publisher.
How do I market my book successfully? How do you launch a book, get reviews, what is the timeline and what if you can't do it ALL?
How can authors who are NOT illustrators find and afford quality illustrations for their books?
How do you find a professional editor to review/edit your book before publication?
How do I go about the sales and distribution of my books to parents, libraries, schools and bookstores? There's a sneak peek on Darcy's blog: The Classroom Library: Where Do Teachers Buy Books?.
Do digital sales work for picture books and middle grade books? Can I publish my picture book only as an ebook? How do I make it look good in ebook format? You can get started at Darcy's blog with eBook Formatting for Children's Books.
Is it fiscally worth it? How is it better than traditional publishing?
Posted on: May 20, 2017
Tags: business of publishing, faculty guest post, pattison, Self or Indie Publishing