Welcome to our Community Celebration Station!
This is the place where we'll share the good news and more that we hear from our community.
Our team tries our best to compile these posts.  If we missed you, or if you have a new story or a piece of good news to share, please let us know here.  We'd love to hear from you!
Highlights Foundation Scholarship Recipient Celebrates Debut Book Deal
From Emily Deibert:
I would like to share that I recently sold my debut MG novel, BEA MULLINS TAKES A SHOT, which I worked on in the Highlights Anatomy of a Novel course taught by Linda Epstein in 2021. I was also awarded a Highlights Foundation scholarship for this course, which was what enabled me to be able to participate. Thank you very much for the support! Linda's kind feedback and encouragement really helped me with this project. My novel will be published in spring 2025 by Random House Children's.
Highlights Foundation Alum Announces Another Book Deal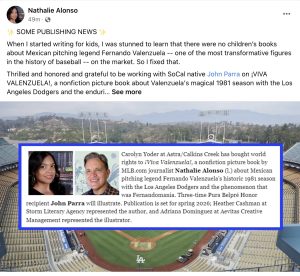 When I started writing for kids, I was stunned to learn that there were no children's books about Mexican pitching legend Fernando Valenzuela–one of the most transformative figures in the history of baseball–on the market. So I fixed that. Thrilled and honored and grateful to be working with SoCal native @johnparraart on ¡VIVA VALENZUELA!, an nonficiton picture book about Valenzuela's magical 1981 season with the Los Angeles Dodgers and the enduring impact of Fernandomania.

Nathalie Alonso attended several Highlights Foundation workshops, including our Crash Course in Children's Publishing. She was also a Diversity fellow, and is now on our Faculty.
Novel-in-Verse Published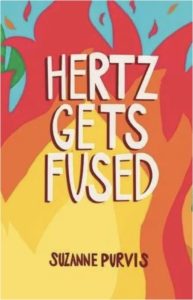 From Suzanne Purvis:
My first middle grade Novel-in-Verse titled HERTZ GETS FUSED released May 15th with Owl's Nest Publishers. I owe so much to Highlights and their short poetry webinars, fabulous poetry and novel-in-verse articles, and huge thanks to Cordelia Jensen and both of her novel-in-verse classes (which I fully participated in with Highlights during the pandemic). I've enjoyed and learned so much from Highlights instructors. My goal is to get to your campus one day soon.
Scholarship Recipient Releases Book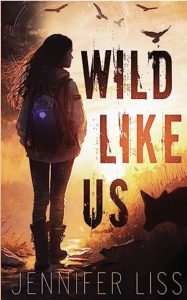 2022 Lee Bennett Hopkins scholarship winner Jennifer Liss has released her novel, WILD LIKE US.  Congratulations Jennifer!
Jennifer Baker Releases Her Debut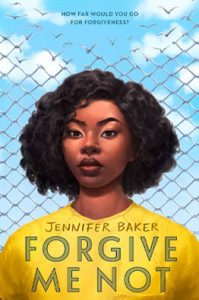 Congratulations to Jennifer on her YA Debut FORGIVE ME NOT.  See her Q&A in Publisher's Weekly.  She's a Highlights Foundation friend, faculty, personal retreater, and Equity & Inclusion Committee member.
Early Reader Graphic Novel Published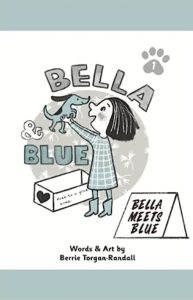 From Berrie Torgan-Randall:
When I was first starting my journey to be an author and illustrator, I had heard people talk about taking classes at the Highlights Foundation to learn the craft of creating books for children. I applied and was rejected two times for the Super Boot Camp for Writers and Illustrators. Sensing my frustration with the rejections, Kent Brown gave me a phone call and suggested a different Highlights course before I apply again for the Super Boot Camp. The workshop that I took made me realize that I was in the very beginning stages of my journey and there was much more to learn. The next year, I applied and was accepted into the Boot Camp. Again, I learned a lot and after the conference and lots of tears, I realized that I was still not ready to submit anything. After Boot Camp, I worked even harder on my illustrations and on my writing and submitted to so many agents and editors with no luck until I got a yes! Last year my early reader graphic novel – BELLA & BLUE was published by The Little Press.

The Highlights Foundation courses helped me build confidence in my writing and illustrating by inviting world class faculty that served as professional mentors. It's not only the mentors but the entire staff at Highlights that believed in me and pushed me to work hard. Thank you!
Nadia Hohn Completes MFA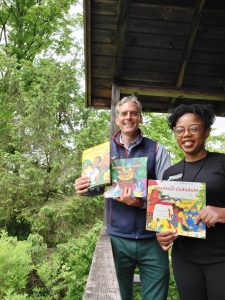 Nadia Hohn, a 2017 scholarship recipient and longtime friend of the Highlights Foundation (who has worked on several books here), recently completed her MFA studies in Creative Writing.  Congratulations, Nadia!
Highlights Foundation Co-Faculty Release Book with Kirkus Starred Review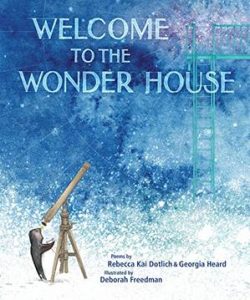 Georgia Heard and Rebecca Kai Dotlich (and illustrator Deborah Freedman) released their new book in July 2023.  Congratulations Georgia and Rebecca!  (They're both on faculty for our upcoming workshop, the Craft & Heart of Writing Poetry for Children.
Collaboration Born at the Highlights Foundation Recieves Kirkus Starred Review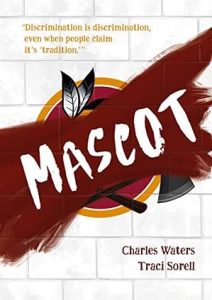 On how the connection was born at a Novels in Verse workshop at the Highlights Foundation, Traci says:
"Charles Waters also attended that workshop. We visited, and we knew we wanted to work on something together. In Fall 2023, we have a middle grade novel in verse coming out called Mascot.  It will be published by Charlesbridge and again edited by Karen Boss."
Congratulations Traci and Charles! For more about the book + a writing prompt, visit our latest Food & Friends post.
Alumni Recieves Award and Releases Another Book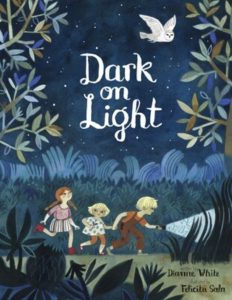 Highlights Foundation alumni and supporter Dianne White was awarded a Crystal Kite from SCBWI for her book DARK ON LIGHT, and launched her new title THE SHARING BOOK this summer. Congratulations Dianne!
Christine Taylor-Butler Named Visting Scholar
Friend and scholarship donor to the Highlights Foundation Christine Taylor-Butler was recently named an MLK Visiting Scholar at MIT.  She'll be teaching a course on Children's Writing during an upcoming term.  Congratulations, Christine!
Spark Re-ignited
From Anndee Hochman:
Since my workshop and retreat at Highlights in September 2022, I've been part of a supportive, frank and insightful critique group with five other women, also part of that workshop and all working on YA or children's manuscripts. We meet every other week on Zoom. A chapter of my in-progress YA novel, MY PLURAL IS PEOPLE, was published in Voyage YA by Uncharted.  And on the strength of a revised section of that novel, I was accepted at Bethany Arts Community for a 2-week retreat this October, where I plan to dive into draft #6 of the book. My Highlights workshop and retreat helped me re-ignite this project, which had sat dormant for months. The spark continues. I am so grateful.
More Good News On Our Blog