Last year, Khahlia Sanders and LaTonya R. Jackson were both awarded Floyd Cooper Scholarships from the Highlights Foundation.
Mentorship and community were both very important to Floyd Cooper. That's why we established a scholarship to honor our friend and faculty member in 2019. He passed away in 2021, leaving behind a truly inspiring legacy. The scholarship provides tuition for an illustrator of color, or an Indigenous illustrator, to attend a Highlights Foundation course of their choice.
Both Khahlia and LaTonya chose to use their Floyd Cooper Scholarships to attend So You Want to Be an Author/Illustrator? in the Fall of 2022 with faculty Courtney Pippin-Mathur.
Khahlia's Story
Khahlia Sanders is an emerging picture book author and illustrator residing in the Midwest. Inspired by the creative and adventurous lives of her nieces, nephews, and her young friends, she creates stories that reflect the wide range of young Black people lives and the rich knowledge their lives reveal. When not drafting stories for young people, you can find Khahlia nurturing her inner child with reading, writing letters, collecting USPS Black Heritage postage stamps, catching the latest Marvel movie or documentary, practicing calligraphy, travelling, and contemplating Mary Oliver's poetic question: "What is it you plan to do with your one wild and precious life?"
"It was great to be amongst a group of people who were encouraging [with] a goal of seeing pictures books come to life," said Khahlia about her experience. She really valued the fact that the course allowed her time and space to work on a picture book dummy. "The creation of a book dummy was very eye opening for me, as it showed me where I need to improve and how I can make my story better."
The scholarship held real meaning for her, because it's helping her create for young readers. She shared, "For those who support the Highlights Foundation scholarships…I want to express my deepest and sincerest gratitude for making courses possible for someone like me who hopes to create picture books with impact for young people. Thank you for giving to such important and emerging work!"
LaTonya's Story
LaTonya R. Jackson is a mother of one, educator of fourteen years, and an author-illustrator. Her body of work incorporates media including pencil, pen, collage, and fabrics. LaTonya's greatest wealth of inspiration comes from her son's quirky and wondrous views of the world. She enjoys creating stories that use textures to capture the multilayered lives of children. In May 2022, LaTonya made her illustration debut with the picture book, Josey Johnson's Hair and the Holy Spirit written by Dr. Esau McCaulley.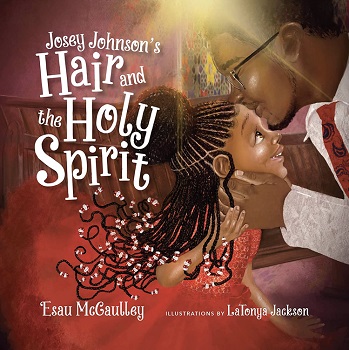 LaTonya was happy to take an illustration course with The Highlights Foundation. She shared: "I have taken many writing courses, but very few illustration courses. Having the opportunity to learn more about children's book illustration under the direction of a professional illustrator who works in the field was an invaluable experience. Courtney provided a wealth of resources and advice."
Like Khahlia, LaTonya valued the experience of creating a picture book dummy. "I experienced the opportunity of translating one of my manuscripts into a first draft book dummy. This particular dummy is pushing me outside of my comfort zone because it includes a motley crew of monstrous giants. Courtney offered tremendous support in the form of websites, books, and video links to help me in the process of honing my monster drawing skills," said LaTonya.
Her manuscript uses the monsters as metaphors for what's happening in the life of her main character. "My hope is that I can use what I've learned in this course to create monsters that both appeal to kids' imaginations and helps them to better understand [what's happening.] This will enable kids to practice empathy for those children they may encounter in their day-to-day lives who face unseen challenges that make seemingly ordinary experiences feel daunting and difficult," she shared.
LaTonya appreciated the scholarship and the impact she hopes it will have on kids via her story: "I would like to express my gratitude to those who support The Highlights Foundation for doing the important work of investing in those (i.e., authors and illustrators) who invest in children. Authors and illustrators feed children's imaginations and teach them the act of empathy—both of which empower them to make the world a better place."
Thank You to All
The Highlights Foundation is grateful to Khahlia and LaTonya for being a part of our community. We're also so happy that they brought to the course some of the same values that made Floyd Cooper such a special part of the Highlights Foundation family.
Thank you also to our donors, partners, and supporters that make Highlights Foundation scholarships possible.