Mentorship and community were both very important to Floyd Cooper.  That's why we established a scholarship to honor our friend and faculty member Floyd in 2019. The scholarship provides tuition for an illustrator of color, or an Indigenous illustrator, to attend a Highlights Foundation course of their choice, either online or in-person.
Floyd passed away in 2021, leaving behind a truly inspiring legacy.
He was the award-winning illustrator and author/illustrator of nearly 100 books for children.  His real and beautiful depiction of the Black experience, his signature "subtractive process," and his genuine spirit of kindness and mentorship will forever be an important part of the Highlights Foundation and the children's publishing industry in general. 
He started his career in illustration at Hallmark, after a successful career in the industrial side of art, he made the leap into picture books with Eloise Greenfield's Grandpa's Face. After that, Floyd worked with bestselling authors including: Jane Yolen, Nikki Grimes, Carole Boston Weatherford, and Virginia Fleming. Floyd illustrated and authored his own books, too: Jump! about the life of Michael Jordan; and the ALA notable book, Coming Home, about the life of Langston Hughes. In 2022 he posthumously received a Caldecott Honor Award, a Coretta Scott King Illustrator Award, and a Sibert Honor for Unspeakable: The Tulsa Race Massacre, written by Carole Boston Weatherford.
Get more information about the scholarship process and apply here.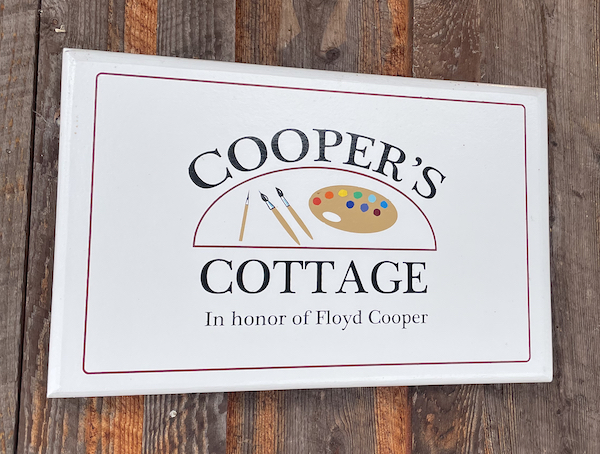 Visitors to our Retreat Center can stay at the Floyd Cooper Cottage, which is decorated with Floyd's art and has copies of most of his published work.  The cabin is sponsored in part by Lerner Publishing Group, and helps fund the Floyd Cooper Scholarship.  Together, they ensure that Floyd's legacy lives on.  Learn more about Cooper's Cottage.
TRIBUTES HONORING FLOYD COOPER'S PASSING IN JULY 2021
The Highlights Foundation and The Brown Bookshelf hosted a memorial tribute to Floyd Cooper on January 7, 2022. You can watch the memorial here. Please note: we have added closed captions to the video; if you don't see them, hover over the bottom of the video and choose the "CC" icon.
The Children's Book Council hosts an annual Floyd Cooper Day (May 6), during Children's Book Week. For details and a bibliography of Floyd's books visit the website. For a list of Floyd's books and to support the African American Children's Book Project, visit Celebrate Floyd Cooper–A Literary Giant at Bookshop.org.