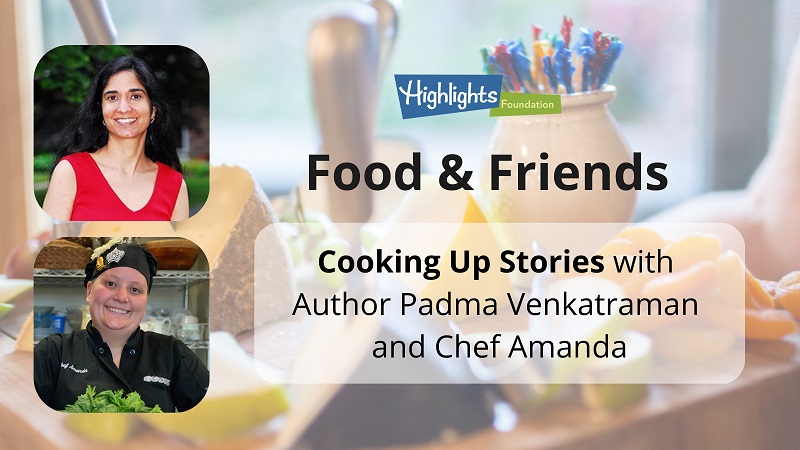 We love it when Chef Amanda and author Padma Venkatraman pair up to share a recipe and writing prompt for our Highlights Foundation family! Padma creates the prompts based on a book from one of our Highlights Foundation faculty, and Chef Amanda shares a recipe from the kitchen at the Barn.
ME, MYSELF & HIM, written by Chris Tebbetts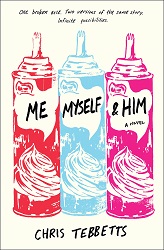 Chris Tebbetts is a novelist, writing teacher, and generous speaker. He's collaborated on many middle grade stories with fellow writers including James Patterson. In 2019 Chris brought us his debut young adult novel, ME, MYSELF, & HIM which unfolds in dual storylines.
ME, MYSELF, & HIM uses two alternate timelines (dual narratives) by creating parallel stories for one narrator, through which we explore possibilities and "what might have been". ME, MYSELF, & HIM is one of those rare books that is both an incredibly creative work of experimental fiction, as well as a moving exploration of reality, responsibility, relationships, and choice. In a starred review, Booklist notes ME, MYSELF, & HIM as "wildly ingenious" and I couldn't agree more!
An excerpt from the book (page 205):
"So, are you my boyfriend?" he asked, when we got back to campus that day, and before I got out of the car.

"Let me check," I said. I rolled my eyes up and side to side like I was taking stock of something invisible. "I think I am," I said. "But how will I know for sure?"

He leaned over and kissed me on the lips then.

"Yep," he said. "Tastes like boyfriend."

"Oh, thank god," I said. "I was afraid I might taste like chicken."
Writing Prompt
See how Chris Tebbetts takes the commonality of a kiss and brings in something unexpected? There is an element of play at work in this excerpt. Few things are harder to bring alive on the page than tender, romantic moments.
How might we show something tender without overdoing it or falling into a cliché? Chris Tebbetts keeps the moment fresh in the above excerpt by infusing humor into what would traditionally be a tender moment.
Imagine a tender moment between two characters. How can you capture it without using tired phraseology? Can you add a gentle touch of humor? Or an unexpected slip of dialogue? Be cautious not to turn to maudlin sentimentality (unless, of course, that's unexpected in the moment!)
Recipe: Flourless Chocolate Cake
1/2 cup sugar
1/2 cup water
1 stick unsalted butter, softened
1 pound of dark chocolate
1/3 cup of orange juice
9 eggs
whipped cream and berries
Butter 8-inch cake pan, put down parchment on bottom, butter again.
Heat sugar and water, stirring. When it boils, add sugar and cook until it is dissolved, remove from heat.
Add butter and chocolate, let stand for 5 minutes. Whisk until smooth. Whisk in orange juice. Beat in 9 eggs, one at a time.
Cook in water bath at 325 degrees for about 45 minutes, until set and slightly dry on surface.
Let cool to room temperature. Put in refrigerator.
When ready to serve, run knife around sides (put in hot water if you have to, just for a second or two). Unmold, serve with berries and fresh whipped cream.
About the authors–and the chef!
Padma Venkatraman is the award-winning author of five novels for young people: Climbing the Stairs, Island's End, A Time to Dance, The Bridge Home, and most recently, Born Behind Bars (a companion novel to The Bridge Home). Born Behind Bars is a Parents Magazine Book of the Month book club pick and Junior Library Guild selection. It was released to starred reviews this fall, and is on Kirkus, SLJ, and other best book of the year lists. The New York Times Book Review described Venkatraman's writing as a "confidently stripped down, crystalline style…Borrowing elements of fable" and the Providence Journal called Born Behind Bars a "tale of hardship and hope, capable of making a grown person cry." in addition to her novels, Padma's poetry has been published in literary journals such as Mobius, Snowy Egret, Parnassus, The Delhi London Poetry Quarterly and most notably Poetry magazine; and she is the founder of Diverse Verse. Follow Padma on twitter (@padmatv), visit her website www.padmavenkatraman.com, or meet her on ig/fb (@venkatraman.padma).
Chris Tebbetts is the New York Times bestselling coauthor of James Patterson's Middle School series. Originally from Yellow Springs, Ohio, Tebbetts is a graduate of Northwestern University. He lives ad writes in Vermont. Find him online at www.christebbetts.com and on Twitter at @christebbetts.
Chris Tebbetts and Padma Venkatraman will offer a Movement and Body retreat-style workshop for creatives this month (May 23-26, 2022). Join them to bring movement into your process and your stories! Read the full description here: https://www.highlightsfoundation.org/programs/3694/movement-for-body-amp-story-a-retreat-for-creatives/.
Amanda Richards is the executive chef at the Highlights Foundation. Although her scholastic background is in elementary education, she has always had a love of cooking and apprenticed under chef Marcia Dunsmore here at the Retreat Center. She's a Food Network devotee and grew up watching Julia Child.