Movement for Body & Story: A Retreat for Creatives
May 23 - 26, 2022
OVERVIEW:
In-person 4-Day/3-Night Retreat
This retreat for creatives is centered on bringing movement to your process as well as your stories. Join Padma Venkatraman and Chris Tebbetts for this "light" workshop, with time to stretch and grow your own work, and time to build new shapes and ideas together.
This is an in-person workshop at our Retreat Center with inspirational sessions and opportunities for time in the company of fellow creatives.
There is ample time to relax, retreat, and work on your own projects.
Lodging and meals are included.
Begins at with dinner 5:30pm Eastern on Monday, May 23
Ends with lunch at 1:00pm Eastern on Thursday, May 26
16 participants max
FEEDBACK EXPECTED:
Informal feedback throughout the workshop via discussions and open sharing during free creative time.
WHY THIS WORKSHOP?
If you are looking for a supportive community to explore who you are as a creative, paired with ideas for story growth and retreat time, this course is for you.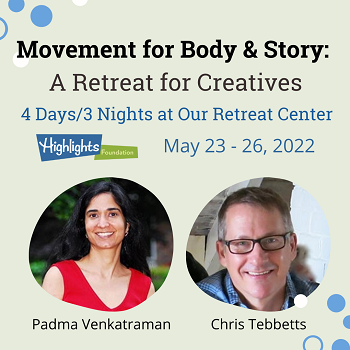 Using elements of meditation, theater, the craft of writing, and more, this workshop offers sessions to open you to creative discoveries as you move along the page.
Together, you will:
Enjoy presentations and activities intended to move your creative work forward.
Have ample retreat time to write, illustrate, and/or collaborate with fellow creatives.
Engage in meaningful conversations about topics like body language for writers, creativity and fear, and the role of optimism in pursuit of creative growth.
THIS WORKSHOP IS A GREAT FIT IF:
You are a creative person. Come as a beginner to writing, or come as an experienced creative ready to stretch and grow.
You could use some creative inspiration. There will be daily presentations designed to help move your story and self forward.
You'd appreciate some retreat time. This course has plenty of built-in time to write, draw, hike, or rest: whatever you need.
DETAILED AGENDA:
Pre-Workshop
During the registration process, we'll ask you to tell us a little about yourself and your goals for this program to ensure that it is a good fit for your needs.
Approximately 1-14 days Before the Workshop: you will receive a link to our virtual classroom where you can introduce yourself to peers, engage in Highlights Foundation related resources (including our Community Standards), and view materials for your time at the retreat center.
Retreat Details:
There will be structured sessions each day, as well as ample free time to focus on your own projects while enjoying the retreat center and natural grounds.
Facilitated discussions will take place following dinner each night.
All times Eastern Standard Time.
Monday, May 23
3pm – 5pm Eastern:        Arrival and check in.
5:30pm:                             Appetizers & Dinner
Following dinner:            Welcome & Setting Intentions
Tuesday, May 24
Morning
Optional meditation
Breakfast
Presentation: Body Language Can Move Your Story Forward
Workshop: Improv and Play for Writers (Craft Workshop Part 1)
Afternoon
Lunch
Free creative time
Optional peer collaboration
1:00-2:00: Optional post-lunch "walking office hour."
4:00-5:00: Optional "On Your Feet" session
Evening
Appetizers & Dinner
After dinner discussion: Facing Our Fears: Shyness, Social Anxiety, and Impostor Syndrome 
Wednesday, May 25
Morning
Optional yoga
Breakfast
Lecture & Discussion with Chris: Four Ways to Keep Your Process Moving
Workshop with Padma: Mapping your way: Tips and Tools to get through your story without getting stuck
Afternoon
Lunch
Free creative time
Optional peer collaboration
1:00-2:00: Optional post-lunch "walking office hour."
4:00-5:00: Optional "On Your Feet" session
Evening
Appetizers & Dinner
After dinner discussion: Open Mic (Sharing Work and/or Discoveries)
Thursday, June 16
Morning
Breakfast
Workshop with Chris: You and Your Character/Taking Stock (Craft Workshop, Part 2)
Presentation with Padma: Trusting the Process: Finding Joy in the Journey
Closing thoughts
Afternoon
A note about workshop agendas and how they change and evolve. 
ABOUT OUR RETREAT CENTER:
All in-person Highlights Foundation workshops (including this one) are held at our Retreat Center: The Barn at Boyds Mills.  This site was the home of the original founders of Highlights for Children Garry and Caroline Myers, and is located in the Poconos Mountains of Pennsylvania on the traditional and contemporary lands of the Lenape Nation.
Your workshop tuition includes lodging, farm-fresh meals with snacks, and shuttle service from our local airport or bus/train stations if you need it.  For more information about attending a workshop or retreat here, visit the Barn at Boyds Mills website.
HOW THIS WORKSHOP IMPACTS KIDS:
The creativity required to write and illustrate for children can be difficult to sustain, but time spent focused on craft and creativity in-community can help.
Why do we mention this? Learn about the Highlights Foundation mission. 
COMMITMENT REQUIRED FOR THE BEST EXPERIENCE:
As an in-person event at our Retreat Center, you'll have a chance to step away from everyday life to experience the workshop. This program has a good amount of independent time so you have space for your personal needs. While we encourage participation in all group events, we know that as an adult learner you can decide if you need more time to yourself. Please let someone from our staff or faculty know if you plan to step away from group activities.
The Highlights Foundation strives for a safe and inclusive environment. You will have access to our code of conduct prior to the workshop where we ask for your respectful engagement with fellow creatives, including our faculty and staff.
Read some ideas about planning for the right level of commitment.
RELATED RESOURCES:
Keep It Moving: Movement & Writing Practice
Rejuvenating Our Writing Lives
The Highlights Foundation offers a number of scholarships to our programs. Find out more about scholarships here.
Faculty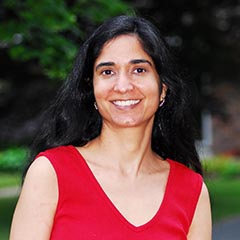 Padma Venkatraman is the author of THE BRIDGE HOME which has garnered 8 stars, and has been honored as one…
Learn more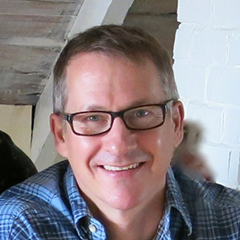 Chris Tebbetts is the author and co-author of many books for young readers. Titles include the #1 New York Times…
Learn more