What better way to get kids (and editors) interested in STEM than by making it special and exciting?
When I was little, my dad always ordered his drinks "with a twist." I always loved the sound of that–it sounded so special and exciting! As I was thinking about how I approach STEM in my books in preparation for the Writing Science and Nature workshop, that phrase came to my mind. I always add a twist! By that, I don't mean a plot twist, but rather an element to make my books special and exciting. And what better way to get kids (and editors) interested in STEM than by making it special and exciting?
So here are some ways I write STEM with a twist:
I combine STEM concepts with fun things that kids like.
For example, my Layla and the Bots books (Scholastic) are about design, engineering and code—but the inventions they come up with are imaginative and fun, like an amusement park for dogs or a cupcake-making machine. By giving kids a context they're excited or passionate about, the STEM concepts naturally come to life!
I bring in fantasy.
In my Invent-a-Pet picture book (Union Square Kids), the main character finds a special machine that outputs wacky pets based on the inputs she picks. While the STEM focus is inputs and outputs, the story is about fantastic pets that surprise and delight.
I add interactivity.
With my I Can Code board books (Sourcebooks), I incorporated lift-the-flap elements. Since IF/THEN is essentially about the logic of cause and effect, this interactivity is a natural fit for readers to see what happens with each action. A simple logical concept becomes delightful and engaging with a bit of story and interaction.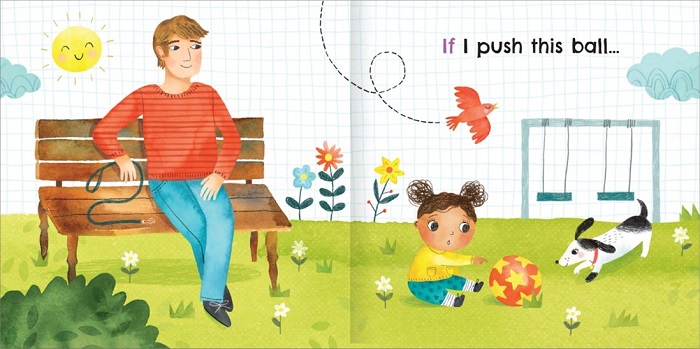 I invite kids to be creative.
In my upcoming AlphaBot book (Candlewick, 2023), kids can mix-and-match illustrated robot terms to create their own robot. A basic description of robotics in the backmatter invites kids to imagine more deeply how their robot might work. (I can't share an image yet, because I'm still making them!)
I make it funny.
In each of my Friendbots books (HarperCollins), there is a backmatter comic that explains a simple robotics concept with humor. Making kids laugh helps them retain information and makes them want to re-read your book over and over again!
These are just some of the ways I've written STEM with a twist! I'm sure you can think of more. You can probably see that I also often use more than one of these techniques in a story. Adding a "twist" to STEM stories is a wonderful way to create a hook that will engage both kids and editors. Have fun writing STEM stories with a twist! I know that they'll be special and exciting.