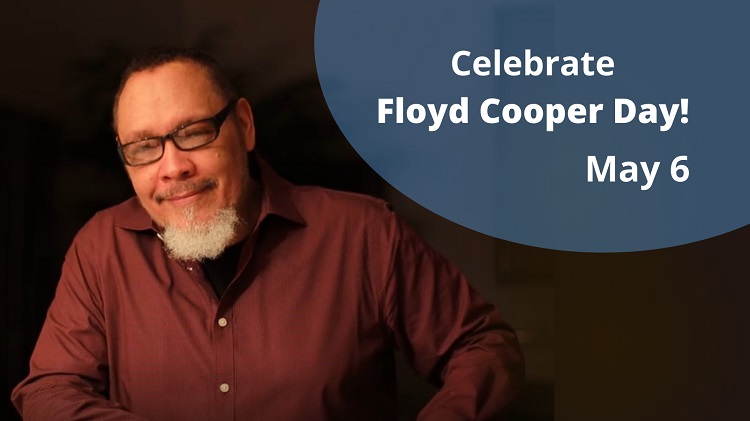 During Children's Book Week, The Children's Book Council's Every Child a Reader will hold the first annual Floyd Cooper Day in celebration of his inspiring and powerful work. The friends of Floyd Cooper, The Brown Bookshelf and The African American Children's Book Project will join in the celebration.
---
How Teachers, Librarians, Educators, and Bookstore Owners Can Participate in Floyd Cooper Day
KidLit TV has produced original videos of Crystal Allen, Tameka Fryer Brown, Judy Allen Dodson, Patti Gauch, Nikki Grimes, Leah Henderson, Cheryl Willis Hudson & Wade Hudson, Sharon Langley, Torrey Maldonado, Olugbemisola Rhuday-Perkovich, Charles Smith, and Don Tate reading from their favorite Floyd Cooper books. The videos are now available here and we hope you'll show them in your classroom, library, or bookstore. Or you can just enjoy them on your own!
Downloads
You can find details here on a display contest for schools, libraries and stores and a list of in-person events honoring Floyd on May 6. Also, visit this Bookshop page to purchase Floyd's titles.
---
A Remembrance by Patti Gauch
Floyd Cooper's first editor and longtime Highlights Foundation faculty member writes about her joyful work with him. Read it here.
---
The Dollywood Foundation
On May 6, see a special encore presentation of the award-winning "Goodnight with Dolly" online series which will feature Dolly reading Floyd's Max and The Tag-Along Moon. A new in-memoriam to Floyd will close out this remarkable presentation. All will be available at DollyParton.com.
---
Yosemite Conservancy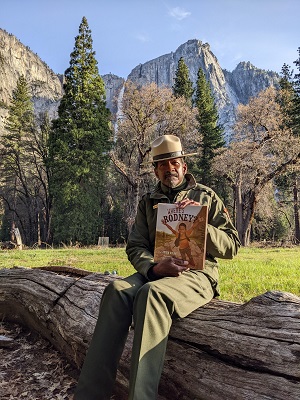 In honor of Floyd Cooper Day on Friday, May 6, Yosemite Conservancy will premiere on their social media channels, Facebook, Twitter, Instagram, and YouTube, a recording of Yosemite Park Ranger Shelton Johnson reading from Where's Rodney?, written by author Carmen Bogan and illustrated by Floyd Cooper. Shelton is truly a celebrity park ranger (and author himself), and his mission is to diversify our parks.
---
Celebrating Floyd Cooper Day on Social Media
On social media, follow and use #FloydCooperDay to share about Floyd and his work.
---
Floyd Cooper and The Highlights Foundation
Our dear, dear friend Floyd Cooper passed away in 2021, leaving behind a truly inspiring legacy. Mentorship and community were as important to Floyd as they are to us–that's why we established a scholarship to honor our friend and faculty member in 2019.
Floyd was the award-winning illustrator and author/illustrator of nearly 100 books for children. His real and beautiful depiction of the Black experience, his signature "subtractive process," and his genuine spirit of kindness and mentorship will forever be an important part of the Highlights Foundation and the children's publishing industry in general.
---
The Floyd Cooper Scholarship
In honor of Floyd Cooper Day, we invite you to commemorate Floyd's achievements as well as his commitment to mentorship, community, and children's publishing by donating to The Floyd Cooper scholarship.
All gifts, no matter the size, propel Floyd's legacy forward.
The Highlights Foundation, Inc., is a publicly supported organization chartered under Internal Revenue Code Section 501C3. All contributions are tax deductible.