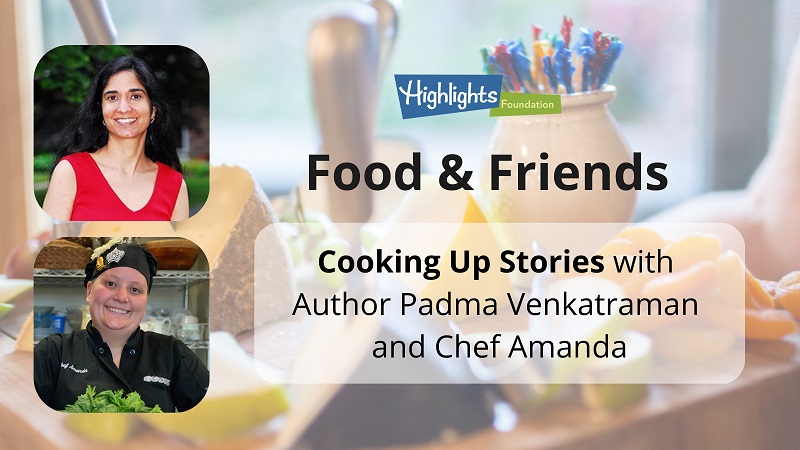 We love it when Chef Amanda and author Padma Venkatraman pair up to share a recipe and writing prompt for our Highlights Foundation family! Padma creates the prompts based on a book from one of our Highlights Foundation faculty, and Chef Amanda shares a recipe from the kitchen at the Barn.
WE ARE GRATEFUL: OTSALIHELIGA, written by Traci Sorell and illustrated by Frane Lessac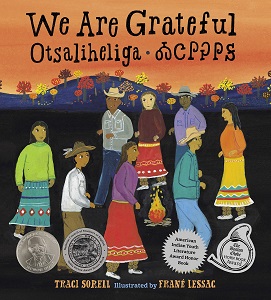 Traci Sorell's multi-award winning WE ARE GRATEFUL: OTSALIHELIGA is a lyrical, poetic picture book in which the author vividly brings to life the ways in which Cherokee Nation citizens celebrate and give thanks in every season, year after year. While some people may say this book is written in prose, it has all the makings of a list poem. This book is a timeless treasure.
Here are two sample pages:
Uligohvsdi • Fall
"When cool breezes blow and leaves fall, we say otsaliheliga…"
Gola • Winter
"As bears sleep deep and snow blankets the ground, we say otsaliheliga…"
Writing Prompt
Inspired by Sorell's lyrical language and imagery, begin your own list. Write down some things you are grateful for, personally. Then, make a list of things your family, or circle of friends, or your larger community or culture celebrates and gives thanks for.
After you've jotted down your initial list, think of how you can make this list come to life by showing how thankful you feel. Describe your personal celebration(s) or your communal celebration(s) with as much specificity and detail as you can. Invite the reader into your piece by sharing how your culture celebrates and gives thanks.
Make a list poem of your own–inspired by We Are Grateful: Otsaliheliga but using your own words–to create your own ode to gratitude. And then, with gratitude, perhaps you'd like to try this wonderful recipe shared by amazing Chef Amanda.
Recipe: Karen's Banana Bread
1 cup of butter
2 cups of sugar
1 teaspoon of vanilla
4 eggs
2 1/2 cups of flour
2 teaspoons of baking soda
6 very ripe bananas
Preheat oven to 350°.
Cream the butter, sugar, vanilla, and eggs on medium speed until combined. Mix the baking soda with the flour and pour in slowly and mix until combined. Mash the bananas and add to the mixture. Pour batter into two greased loaf pans and bake at 350° for one hour. Let cool before removing from the loaf pans.
About the authors–and the chef!
Cherokee Nation citizen and award-winning author Traci Sorell writes fiction and nonfiction books, short stories and poems for children. A former federal Indigenous law attorney and advocate, Traci lives with her family on her tribe's reservation in northeastern Oklahoma. Find out more about her work online at tracisorell.com or @tracisorell via Twitter and Instagram.
Padma Venkatraman is the award-winning author of five novels for young people: Climbing the Stairs, Island's End, A Time to Dance, The Bridge Home, and most recently, Born Behind Bars (a companion novel to The Bridge Home) which was released to starred reviews this fall and is a Junior Library Guild selection.
Amanda Richards is the executive chef at the Highlights Foundation. Although her scholastic background is in elementary education, she has always had a love of cooking and apprenticed under chef Marcia Dunsmore here at the Retreat Center. She's a Food Network devotee and grew up watching Julia Child and others on PBS.