"That's what kindness does," Ms. Albert said, "Each little thing we do goes out, like a ripple, into the world."
Like a ripple.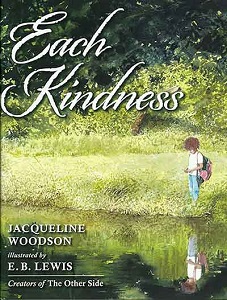 These words, expertly crafted by Jacqueline Woodson in her 2012 picture book, Each Kindness, continue to stick. From the moment of my first read, to the most recent, these words have echoed. Haunted. They have left a ripple within my heart. I began to think, then reflect. When have I not been kind? At what moments was I not at my best? Now, when people ask if I have a picture book recommendation, I never hesitate to tell them, Each Kindness. While Ms. Albert showed her students what kindness does, Jacqueline Woodson has shown us authors a befitting example of heart.
What exactly is heart within a story?
Just as our emotions ring and rise in distinctive ways, heart will have a magnitude of definitions, depending on who you ask. Makes sense, right? We all love and like differently. Ultimately, heart refers to the emotional center, or core. It is the connecting moment in which a whole story begins to make sense.
Your heart palpitates. (In a healthy way!)
Your body warms.
A trickle of sweat forms against your forehead.
Your eyes widen.
Perhaps they begin to water.
Your mouth begins to form an expression, "Oh." "Ah." "Whoa."
You inhale.
You exhale.
You put the book down to collect your thoughts.
Then, you think.
Heart is what makes a story so much more than words sprinkled on a page.
Heart is what transforms, turning a story into something that often feels as real as our own experience. No wonder so many books stick with us long after we have finished reading. No wonder Each Kindness continues to play on repeat in my mind, causing me to question, wonder and collect my thoughts.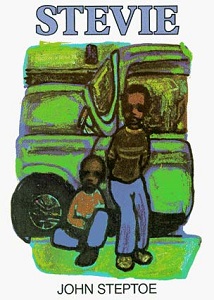 "We used to have some good times together. I think he liked my momma better than his own…" Robert reflects on the kid who came to stay with him in John Steptoe's Stevie. But, prior to this page, Robert also remembers. He thinks about the fun he and Stevie had together, despite the resistance he felt with having a new visitor in the house. Stevie showers us with the realization that there can be more than one moment of heart within a story. But the ultimate moment occurs in this one line, "I think he liked my momma better than his own…" How Robert recalls a distinct way in which Stevie referred to Robert's mother, versus his own, gives us a realistic glimpse into Stevie's life, through this one tiny detail. A realistic aspect that is the foundational element of heart.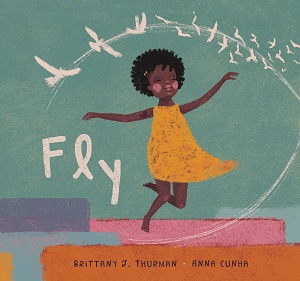 Almost five years ago, when I crafted my debut picture book, Fly, did I deliberately incorporate heart? Africa, my double-Dutching protagonist, has moments of reflection and moments of immense freedom. All of which I hope connect readers to the story. As an author who writes beginning with emotion, these are the moments that prodded my mind when Fly was only an idea. These are the moments that played on repeat, not letting go until I began to write. While heart is the emotional core, I think it can also be the those nagging scenes in the back of our mind. The scenes that flash behind our eyes way before we begin to write. It is the pull, push and tug. A magnet that calls us to our own story. That same pull and push eventually become the scenes that will stick with readers.
Illustrators' depiction of our words can expand our scenes
And when illustrators translate these moments of immense heart from text to visuals, their depiction of our words can expand our emotionally-centered scenes. When Africa looks up at her grandmother, who used to be a double-Dutch champ (back in the day), never could I have imagined the feeling this visual gives. My heart beats faster. I let out a smile. The feeling I have when I look at this one scene resonates within my own heart. Kind of like a hug from my own grandma.
Join Daria Peoples and I for Submission-Ready with Heart: A Hands-On Workshop for Author/Illustrators,/em>, where we will dig to the root of crafting stories with emotional cores, explore a range of heartfelt mentor-texts, and analyze our own stories for ways to make our readers feel.
Because that's what stories do.