In planning our workshop on writing picture books with humor and heart, we wanted to share three of our favorite touching and funny books, so you can see the wide range of styles, subjects, and creators we love, and understand a little bit about why they work so well.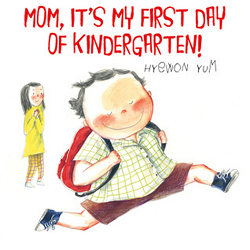 From Emily Jenkins: The emotional lessons of the best picture books are complex.
Mom, It's My First Day of Kindergarten, by Hyewon Yum
Yum's protagonist is fully ready for kindergarten, but his mom is pretty anxious–so anxious, in fact, that she appears small and blue for much of the book. "Will you be okay in the big kids' school?" she asks. "You're still so little." "Mom, don't worry," he tells her. "I'll be fine. I am already five!"
The genius of this book is not only that Yum has found a comical and truthful way to illustrate anxiety, with the mom relaxing into full-size color as she meets some other parents and little boy turning small and blue in turn when he actually has to face his new classroom, then pinking up again as he enjoys his day. It's not only that she found a fresh spin on the timeless subject of the first day of school, by making the mother the fearful character. The genius is that child readers have room to experience both worry and confident anticipation at once, and can laugh at both. The little boy is over-confident, because nothing is ever perfectly easy. And the mom is over-worried, because he really is ready. Yum allows us to connect wherever we need to connect, and laugh at the same time.
To me, the emotional lessons of the best picture books are complex. That is what makes them true.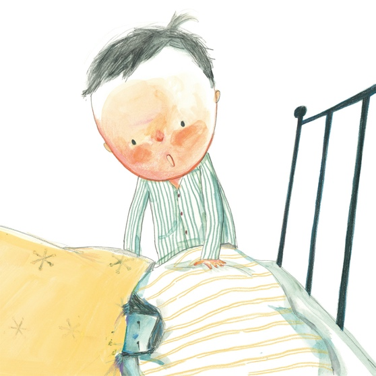 ---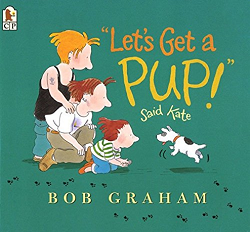 From Elise Broach: The child's viewpoint and the adults' mesh perfectly.
"Let's Get a Pup!" Said Kate, by Bob Graham
From the simple, common premise of child-wants-a-pet, this book unfurls into a funny, touching meditation on kindness, compassion, and love. When the story opens, Kate's cat Tiger has died the winter before, and her feet are lonely in bed. She wakes up one morning and somersaults into her parents' room shouting, "Let's get a pup!" Her agreeably Bohemian father and mother–shaggy-haired Dad has multiple ear piercings and Mom has a nose ring and a floral tattoo–couldn't be more thrilled at the idea.
One of the lovely conceits of this book is that the child's viewpoint and the adults' mesh perfectly. They all want a dog, and their standards for the ideal pet are delightfully impractical; for example, the father wants one that will "run around in circles." With their breakfasts uneaten, the family rushes to the Rescue Center, where they find "big dogs, small dogs, sniffers and sleepers, wire-haired, short-haired, scratchers, and leapers." The poignancy of so many dogs lacking homes will not be lost on even the littlest reader, which makes the family's ultimate decision to adopt more than one even more satisfying. They come home with cute little Dave and eventually go back for big, old, tottering Rosy.
What's funny:
The unexpectedly artsy, kid-like parents; the dips into rhyme and word-play; the hijinks of Dave and Rosy, who dig up flowers, cry all night, and sweep the table-top clean with a tail wag; and lots of funny details in the illustrations.
What's full of heart:
There's a moral vision here, not just about the importance of animal rescue, but about extending one's heart and home to the least fortunate, least adoptable pets. Graham puts the tender hearts of all members of this family on full display, and he rewards them amply for their compassion by the story's end, when Kate's feet are no longer lonely in bed: "It seems like Dave and Rosy have always been there. Their weight is comfortable and reliable, and will stop Kate's bed from floating away into the night."
This book takes an ordinary story-line and adds a couple of twists and some charming specificity to make it feel magically new, full of both humor and heart.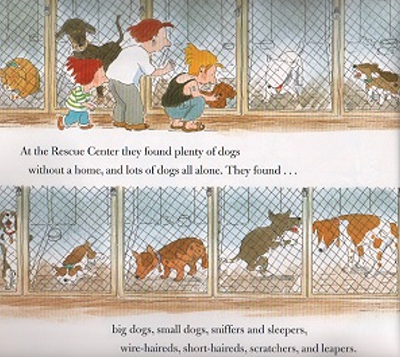 ---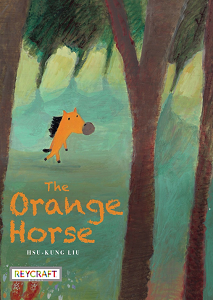 From Sunita Apte: You don't need supremely clever prose or amazingly intricate drawings to make a memorable book.
The Orange Horse, by Hsu-Kung Liu
You know you're in a different realm from the first pages of this book: "Once upon a time, an orange horse traveled to a far-away city. He was looking for his long-lost brother. The only clue he had was half a photograph of an orange horse, just like him."
Though the story may be set up as a fairytale of sorts, it's one unlike any other, with a lovely and poignant message about what it means to be family.
Liu's imagination, as both an author and illustrator, is boundless. I have poured over this book relentlessly, trying to figure out just how Liu renders such pathos and humor in his understated prose and seemingly simple drawings, but clearly he's a word and picture alchemist.
This book makes me laugh and makes me cry–every time I read it.
What makes me laugh:
The successive advertisements the orange horse places, searching for his brother. The humor's in the detail–—or lack of them. His first ad says, "If you are orange and missing half an old photograph, please come and meet me."
Who shows up? "The first to come see the orange horse was an orange house. And, of course, their pictures did not match at all." Readers will be surprised to learn just who is wandering around out there with half an old photograph.
What makes me cry:
The orange horse at last meets someone he thinks is his brother (spoiler alert: it's not through the ads) only to be bitterly disappointed when his hopes are dashed. However, his "non-brother" saves the day and teaches him the true meaning of family.
The heart in this book is tremendous and always reminds me that you don't need supremely clever prose or amazingly intricate drawings to make a memorable book.