Enduring Writing Goes Beyond Fun Facts
I am a student of nonfiction. To make my writing stand out of that ever-deep slush pile, I study other writers' works and slip their tricks into my writing. Over and over I noticed that enduring writing goes beyond fun facts to present big ideas–important concepts, principles, or practices of science relevant to young readers.
One trick that helps me turn fun facts into big ideas? Three simple questions: What? So what? Now what?
1. What?
The "What" question is often the easiest–science is bursting with awesome content. Years ago I started collecting cool facts about juvenile marine creatures. Did you know a young slipper lobster surfs on top of jellyfish? A single juvenile jellyfish can flake off 30 fragile disks which each become an adult jelly? A roly-poly relative can parasitize a fish, gobble his tongue, then take up residence as if she were the fish's tongue?!? Fun facts, but I did not have a big, enduring idea.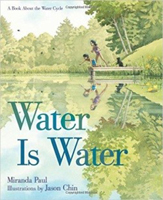 2. So What?
The "So What?" question prods you: Why should your reader should care? Why should they wade through all those words? In Water is Water, author Miranda Paul and illustrator Jason Chin brilliantly gave readers the "So What?" of the water cycle. They used lyrical language (clouds that look like dragons) and a kid-friendly narrative line in the illustrations (what kid doesn't dream of packing solid water into a ball, taking aim, and–smash!–starting a snowball fight?. A perfect way to bring a big science concept right down to the level of a young reader.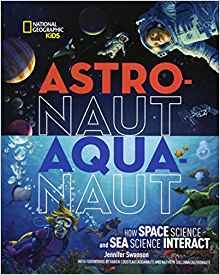 3. Now What?
Some books use "Now what?" to prompt readers to apply the information in they just learned. Take a look at Astronaut–Aquanaut, by Jennifer Swanson. The book includes fascinating content which compares these two careers and then uses activities to take the big idea one step further. Sure it's fun to read about an astronaut in training, but what if you get to try docking a spacecraft (tennis ball suspended from a string)? Suddenly the reader is participating and real learning is happening!
Putting the Questions to Work
With my list of cool young marine critters, I asked myself: "So what?" That led me to realize no matter if they're in the marina or middle school, kids struggle as they grow up. Maybe that was my missing big idea!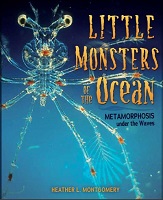 Off I went, interviewing scientists about marine juveniles. But I kept getting frustrated. There is so much we still don't know about these animals. How could I write a book without answers?
That's when the "Now what?" question helped out. Those unanswered questions could fling the door wide open for young scientists of the future!
And that is how three questions helped me turn a list of fun facts into a book about inquiry, Little Monsters of the Ocean: Metamorphosis under the Waves.
So ask yourself:
What?
So what?
Now what?
And discover how three simple questions bring out the big ideas in your writing.