Tod Olson and Leda Schubert in Conversation
Enjoy this dialogue between a picture book author (Leda Schubert, ledaschubert.com) and a narrative nonfiction author (Tod Olson, todolson.com).
Tod: Hey Leda, why do you love picture book biographies?
Leda: I didn't start out to write nonfiction, but my curiosity led me there. Most writers I know are incredibly curious. A good bit—too much—of my day now involves looking up things that have caught my attention: there is no shortage of ideas. Catalysts can be scientific realities (most recently: how a sunset changes as it moves from coast to coast) or obscure facts (the significance of carrots during WWII), but many are about people. What part did being Jewish play in Marcel Marceau's amazing life? What motivated Fanny Lou Hamer, whose childhood sure didn't predict the hero she'd become? Why did Balanchine choreograph a ballet for elephants? It's that intense spark of curiosity, particularly when it becomes obsession, that might lead to a picture book biography.
What about you, Tod? What's your obsession?
Tod: Getting nonfiction out of the health food aisle, as Steve Sheinkin likes to say. I think a lot of people have touchstone books in their lives. One of mine is the classic survival story Alive, which I discovered on a vacation in Maine. Hidden in its pages was the revelation that people from time to time have feasted on the dead bodies of their friends. I was 11 then, and I wondered what other spectacular secrets the adult world was keeping from me. But it wasn't just curiosity that made the book stand out for me. It was the reading experience itself. I barely left my chair until the survivors from the rugby team staggered out of the Andes into the arms of their families. That edge-of-the-seat experience is something we normally associate with fiction. But the best narrative nonfiction can be every bit as immersive. It renders the world for kids with its complexity and drama intact—if we can figure out how to do it well.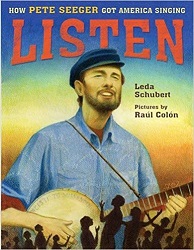 Leda:  I agree. But for me, "doing it well" often doesn't come into play until I'm well into the research—because I love research too much.  Then I force myself to stop and ask questions. What is it that's calling to me? What makes this particular life worth writing about? Will it make a good story? What can be accomplished within 1000 words (more or less) without distortion and with the necessary honesty? What will create tension/keep the reader turning the page? What can be left out? Do I need to do more research? How can the techniques of fiction enrich a picture book biography? Above all, what will make a compelling story for child readers?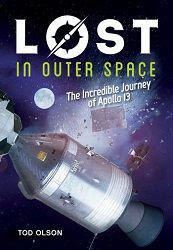 Tod: I love the idea of taking a fiction writer's approach to writing nonfiction. And by that I don't mean "making stuff up." If a book is written as nonfiction, everything in it should be sourced or sourceable. But my books are sometimes mistaken for fiction, and I take that as a compliment. I think narrative nonfiction writers need to think of themselves as storytellers, not teachers. After all, there are a thousand ways to tell every story, and even nonfiction writers make conscious choices every step of the way. Here's how a fiction writer's tools can help. Pacing: What do you leave out? Where do you end chapters? How do you work in secondary storylines? Setting: How do you dig sensory details out of your sources to immerse readers in place and time? Character: Do the main actors in your story develop over time? What scenes best reveal who they are? Voice: Do you want the narrative voice to stand out or vanish into the narrative? How deeply inside your characters' POV do you feel comfortable going, given your source material?