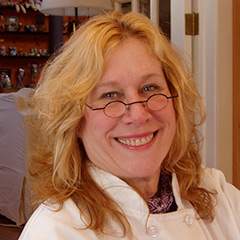 We are lucky enough to have Denise Fleming visiting us for a third time in 2017: she'll be here in October as our Artist in Residence!
What does that mean? Denise will bring a project of her own to our campus and spend the days working on it…while you are working on your own project. Everyone will come together at mealtimes; after dinner, Denise will host informal sharing and feedback sessions for all. It's a great opportunity to network and to get a glimpse of Denise's creative process while making progress on your own work!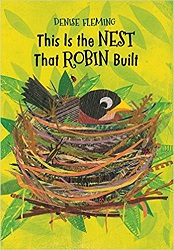 If you've never met Denise, you're in for a treat. She's an art dynamo–creative, enthusiastic and lots of fun! She's the author/illustrator of many award-winning picture books created in her signature style of pulp painting. (We hear that her coming-in-2018 book, This is the Nest That Robin Built, features a brand new style. Here's hoping she'll bring the f&g's to her Residency.)
If you want to learn more about Denise, here are some places to go:
Denise Fleming website: jam-packed with info on Denise, activities and crafts, free posters, and resources for educators and book lovers.
Denise Fleming: Will Write for Cookies: fun interview with Denise by Vivian Kirkfield on her Picture Books Help Kids Soar blog.
Denise Fleming's YouTube channel: videos about Denise, activities and crafts, and book trailers like this one for 5 Little Ducks:
Blog tour of Denise's studio: featured on author and artist Andrea Skyberg's blog.
Interview with Denise: by Highlights Foundation alum Dylan Teut.