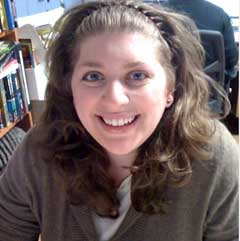 We'd like to thank Sky Pony Press editor Alison Weiss for this guest post!
1. Stop making excuses.
You can always find a reason not to sit down and get words on the page—I have to do laundry. I'm so tired. The kid needs to be driven to soccer. You'll never be a writer if you don't carve out time to write. Make it a priority: 20 minutes a day or every Saturday afternoon. Whatever works for you. Make this sacred time, and make it known to those around you that they aren't to interrupt you unless the house is burning down. The dishes can wait.
2. Be kind and forgive yourself.
Despite the above, sometimes life gets in the way. That's okay. Just get back into your pattern. And this applies to your words, too. Be kind to yourself. Your first draft is going to be an outright mess. Don't try to fix your work from the start. Just get words on the page, no judgment.
3. Become a great reviser.
You have your messy draft. Now it's time to start revising. (And this is the very best part!) Look for plot holes, character development problems, pacing issues, inauthentic dialogue. If something in your project is not working for you, make notes, notice patterns, and dig in to fix the issue.
4. Take a break from the project.
Put your manuscript aside for a little while. Come back to it with fresh eyes. You'll notice all kinds of problems that weren't apparent before. Now get started on fixing those.
5. Know when to stop. For now.
When you find yourself tinkering, switching a word here and there, taking out a comma and putting it back in, it's time to stop and start thinking about the next step. That may be showing the manuscript to your critique partner, getting your query letter together, or signing up for some professional feedback. It's scary to share your work with others, but pushing yourself out of your comfort zone and hearing feedback will help you to continue to evolve as a writer.
6. Read:
Here's a secret. Sitting with a good book and a cup of tea is actually improving your craft. Read inside your genre. Read outside your genre. Study the books you read. What do those authors do that works? That you like? How can you find your own way to do that, too?
7. Never give up.
Writing is a long and tedious journey, and it can feel like there's never going to be success at the end of it. But if you give up, you're 100% guaranteed to never find success. Keep going!
8. Go to conferences.
Conferences are a great opportunity to get out of your writing bubble, get face time with professionals, learn from other writers, find critique partners, and just have fun!