I smile when I hear someone suggest that STEM topics are "dry" or "a hard sell" in publishing, especially in the children's industry. Science and nature are filled with wonder and, at times, sheer ridiculousness. There are plenty of interesting story sparkers from odd-looking animals such as blobfish, proboscis monkeys, or mustached "hipster" toads. Or a writer could start with amazing facts—for example, did you know that on the moon, humans have the ability to walk on water?
But let's say you're writing about a topic that isn't so naturally fun (or funny). What can writers do to avoid that stereotypical dryness?
Whether I'm working on a fiction or nonfiction book, one of the core elements I consider is how that topic relates to my audience. How does the STEM subject matter reflect or interact with the human experience? Or, more specifically, with a child's daily life?
Take the growth cycle of plants, for example. Plants need soil, rain, sunshine, etc. There are plenty of books on the subject. But I wanted to explore it from an angle that resonated emotionally with young readers, and maybe made them laugh a bit. Science-related trade books still compete with all of the other non-science fiction titles in the marketplace. Most stories will need to have characters, plot, or a strong format/structure and voice to earn places on the bookstore shelf and find their way to readers.
I decided to make my growth-cycle book about waiting. Kids are repeatedly asked to be patient, especially on long journeys. Siblings might quarrel in the backseat while the youngest keeps asking, "Are we there yet?!" And so a book called Are We Pears Yet? began germinating in my head several years ago. Pears take five or more years to bear fruit, which is a long time in the eyes of a child! So I lightened up that journey with an all-dialogue story in which the main characters are pear seeds, and one just can't wait to grow up and bear fruit. But what on earth is taking so long?!?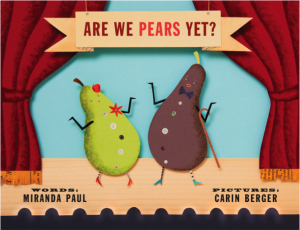 Illustrator Carin Berger took the quirky text from Are We Pears Yet? and made the pear seeds literally the stars of the show. The picture book released in September 2017 from Neal Porter Books (Macmillan Children's/Roaring Brook Press).
Writers who attend my workshops will hear about how I typically start with a topic or subject matter when approaching a new idea for a children's book. That's a great start. But I also share with attendees how finding an angle that links or relates the topic to an appropriate age group is a necessary next step. Then, we work out strategies for making the manuscript engaging by adding quirky characters, language, or a format that will captivate readers beyond the run-of-the-mill nonfiction science book. In other words, we have fun and experiment! It's like a mini-lab of creativity, and I can't wait to see you there.