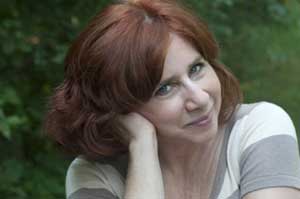 Spend any time with Sarah Aronson and you'll walk away with three things. First, you'll understand just how much this woman loves to teach writing. Her enthusiasm for the craft and talk of Vermont College of Fine Art programs, mentoring programs, whole novel programs, writers.com, and SCBWI nearly seeps from her pores as she speaks. Second, she loves books. She appears much happier lifting up the books she's read than talking of her own. But don't mistake that for not caring about her own work, because the third thing you will know is that this woman walks the walk. She's as thick into it as one can be and believes strongly that writing begets writing. I guess if I could add just one more thing that you'd walk away with after speaking to Sarah, it's a smile – and a big one at that. It comes from knowing that there are stories out in the world for our children from Sarah, and that there is another writer out there who cares so deeply for mentoring new people to the industry.
Alison Green Myers talked with Sarah, who is on the faculty for our Getting to Know Your Novel and Whole Novel workshops.
Alison: Welcome, Sarah! We are thrilled to have you on the blog today. Can you tell us a bit about your work in progress? What can we look forward to reading from you soon?
Sarah: I am working on Book Two of The Wish List, a series about a fairy godmother in training who has a hard time following the rules. I began working on this series at the Highlights Whole Novel retreat! Up until then, the project had been my secret "peach sorbet." In other words, it was a story I was writing without expectations, just because it energized me.
I'm also working on a super-secret middle grade novel. And a picture book biography. And maybe something else. But none of it is official. Shhhhh!

Alison: It is always encouraging to hear about works in progress. It's inspirational to know that all writers, even highly acclaimed authors like you, must begin again and again. What about you? What inspires or influences your work?

Sarah: Honestly, everything inspires me! I live near Lake Michigan, and walking by the beach (without my phone) always gives me ideas. So does cooking. And art! Right now, I'm taking an art class, and it is teaching me so much about the process. (By the way, my work is TERRIBLE.) But I am learning so much just by trying. For example, this week, when I was struggling to draw a skull, my teacher reminded me that when the stakes are high — in this case, when the object we are drawing has meaning to us — it can open the door to fear. It can make us hesitant and afraid of failure. To help me, he made me draw fast. He reminded me that I had to give myself complete freedom to create. And that success was more about mental discipline than talent. (I say that all the time to writers!)
Of course, other writers inspire me every day. Meeting with writers at every step in the process pushes me to think about story in all kinds of ways. That includes brand-new writers who are sharing their words for the first time as well as seasoned writers who are experimenting with genre and character and form. At Highlights, magic happens when writers sit down and talk about the craft.
Of course, books are the greatest teaching tools there are. When kids ask me for one tip and one tip only, I tell them to READ. Read everything! Books! The newspaper! The back of the cereal box! Words beget words. Reading helps me figure out how to put my words together.
Alison: Good books are always a hot topic at the Barn. Can you pass along a few book recommendations?
Sarah: I am really excited to share Elly Swartz's debut novel, Finding Perfect (FSG, October 2016). I've worked with Elly over the years, and I loved watching her find her voice through her wonderful main character, Molly. She is definitely a writer to watch!
I have read most of the books on the long list for the National Book Award. If you're looking for a list of great diverse books, start there. I also just reread The Great Gilly Hopkins. Rereading favorites is always a great way to tap into your own appetite.
Last, I'm reading Big Magic for the third time. Or maybe fourth. I stopped counting.
Alison: We are so grateful for all of the mentoring that you've given our writers at the Barn. Can you tell our readers a bit about both your Whole Novel Workshop and the all-new Getting to Know Your Novel online and on-site retreat?
Sarah: Let's talk about the Whole Novel Workshop first. I love having the chance to read whole works in progress. What makes this week special: every writer gets their feedback before arriving at the Barn. That gives them time to start thinking and planning. During the week, the writers have time to talk with their readers one-on-one. There are also lectures and workshops to stimulate your imagination and open your mind to new ideas. Most important, there is time. Time to write. Time to play. Time to think. Time to discover. What a gift to yourself! At the end of the week, each writer has made great strides.
Getting to Know Your Novel is a workshop I wanted to do for a long time. For the last few years, I've been thinking a lot about the power of play and how writers can understand their characters better (and maybe faster) if they step away from the manuscript and dig. That is part of what the online portion of the class will do. It will be dedicated to discovery–to helping writers–whether they have a draft or even just a couple of good ideas! Over the 10 weeks, I will post lectures and writing exercises that will help reveal the core of the story. We will produce pages. We will discuss the craft. We will push each other to fight fear and grow. Then at the workshop, we will work one-on-one and in small groups to help propel the WIP to the next level.
I often tell new writers that writing is a solitary business–but it doesn't have to be! In this class, like the Whole Novel Workshop, we will see the power of community. We will help each other play. And together, we will work hard to develop our stories.
Can you tell I am excited?
Alison: Thank you for your time today, Sarah.
— Interview by Alison Green Myers