Charles was a student first at The Highlights Foundation (he first attended How Do Poets Get Published? and later The Craft and Heart of Writing Poetry for Children).  Now he's a faculty member, and a great example of the kind of person you'll likely meet at our workshops: creative, dynamic, friendly—and ready to share knowledge and experience.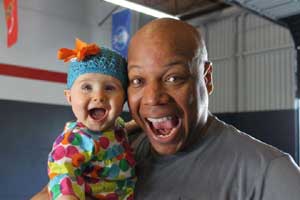 Charles is a children's poet, actor, and educator who has performed in schools and universities across the country. His work has appeared in various textbooks and anthologies including The National Geographic Book of Animal Poetry, edited by former Children's Poet Laureate of the United States J. Patrick Lewis.
His first book, Can I Touch Your Hair?, co-written with Irene Latham, was released by Millbrook Press in fall 2017. You can find out more about Charles at his website, www.charleswaterspoetry.com.
"Waters possesses such electricity that the federal government should tap him as an alternative energy source."—Michael Hoover, The Evening Sun

"He put on an amazing workshop at our library. Students, teachers and parents were awed by his performance abilities and skill at creating poetry. Poetry comes alive when Charles takes the stage!"—Sandy Mayer, Florida Librarian